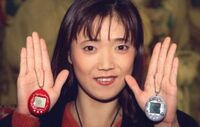 Aki Maita (真板亜紀) is a Bandai developer that assisted in the development of the original Tamagotchi.
History
Aki was employed at Bandai in 1995 when Akihiro Yokoi made his initial pitch for the concept of the Tamagotchi virtual pet. As one of the developers on the project, Aki helped solidify many of the concepts of the Tamagotchi pet that set the standards for virtual pets that followed.
During Tamagotchi's initial success, Aki was promoted by Bandai as the "face" of the brand until Akihiro was publicly credited as the creator of Tamagotchi in July 1997. Aki and Akihiro were together awarded an Ig Nobel Prize.
She is currently the manager of celebrity actress and singer Ikue Sakakibara.
External Links
Community content is available under
CC-BY-SA
unless otherwise noted.