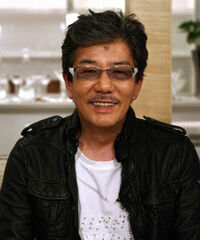 Akihiro Yokoi (横井昭裕) (born February 10, 1955 in Tokyo, Japan, age 67) is a Japanese businessman, the former president and CEO of WiZ, and the creator of Tamagotchi[1].
Creation of Tamagotchi
Akihiro joined Bandai in April 1977 and left in May 1987. In September 1986, he established Wiz Co., Ltd., a manufacturer handling Japanese toy planning and development. In June 1987, he was inaugurated as WiZ's President and Representative Director.
In June 1995, Akihiro submitted a proposal to Bandai with the initial pitch for the Tamagotchi toy. In later interviews, Akihiro claimed he was inspired by a television commercial of a young boy trying to take his pet turtle with him on a trip[2]. The initial pitch proposed Tamagotchi as a mobile pet; the development of being a raising simulator came later. His initial pitch also suggested the Tamagotchi should be worn as a wristwatch, but due to bulk and plastic costs, it was reimagined as a keychain instead. The first Tamagotchi was launched in Japan on November 23rd, 1996.
Despite Tamagotchi's initial success, Akihiro was not publicly credited as the creator of Tamagotchi. Instead, Bandai promoted one of Tamagotchi's developers, Aki Maita, as the "face" of the brand. It wasn't until a lecture in July 1997 when Akihiro was publicly credited for creating Tamagotchi. WiZ would also introduce Digimon that same month, as an alternative virtual pet for boys. For creating Tamagotchi, Akihiro and Aki were jointly awarded an Ig Nobel Prize, credited as "The Father and Mother of Tamagotchi".
Akihiro retired in August 2016. On Jun 3, 2020, he started a YouTube channel called "Yokoitchi's Channel" (よこいっちの穴チャンネル), where he talks about his career and the development of Tamagotchi.
References
External Links