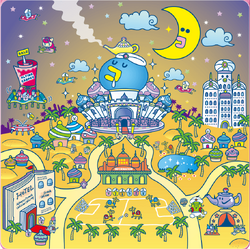 Arabian Night (アラビアンナイト Arabian'naito) is a location located inside the Magical Flying Library Ship.
Appearance
Arabian Night is located in the desert oasis with various buildings themed after magical lamps, storybooks, carpets, and turbans.
On Virtual Pets
Tamagotchi Meets
Arabian Night is a location on the Tamagotchi Meets exclusive to the Fantasy version. It is unlocked from the second generation onward by using the Jewelry Box item, which can be earned by visiting the Princess Palace and using the Prom Night option after 7 PM. A jewel will roll out of the box into the backyard where it'll transform into a flying carpet. The tamagotchi will ride the carpet into a storybook where they'll land in the Arabian Night location.
Unlocking the location also unlocks the Arabian Night icon theme.
Activities
Arabian Park
Exclusive residents can be talked to and played with here. If the residents are the mother or father of the user's tamagotchi they will not appear.
Arabian Shop
Otogitchi runs the shop here. They sell souvenirs exclusive to Arabian Night and also the standard items and accessories from the Tourcontchi chain stores.
Meals:
MAGIC FOOD - 200G
LAMP PIE - 180G
??? RICE - 210G
Snacks:
PALM DATES - 100G
ARABIAN COFFEE - 120G
LAMP COTTON CANDY - 140G
Items:
MAGIC LAMP - 900G
SOARING CARPET - 1000G
Accessories:
TURBAN - 400G
ARABIAN BAND - 600G
Jewel Catch (Game)
The user controls a turban wearing tamagotchi as they catch jewels falling from the sky while avoiding skulls. They can be moved left (A button) and right (B button). The more gems they catch the faster the gems and skulls will fall. The game ends when the tamagotchi hits a skull or when they collect 15 gems.
Propose
The tamagotchi can propose to a resident if they have a ring.
Residents
Name
Artwork
Sprite
Gender
Marry
Favorite Items
Lamppatchi

Male
Yes

Magic Lamp (Arabian Night)

Meloarabian

Female
Yes

Magic Set (Toy Park)
Music Box (Fairy Land)
Magic Lamp (Arabian Night)

Kikitchi

Male
Yes

Scooter
Unicycle
Jewel Box (Princess Palace)
Gallery
Community content is available under
CC-BY-SA
unless otherwise noted.