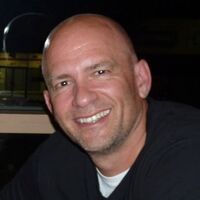 Bob Nenninger is a designer specializing in branding and marketing, and the designer of Tamagotchi's international logo and design in 1997.
History
Bob founded BobCo Design, Inc., a boutique design and brand development agency based in California, in 1993. BobCo Design was contracted by Bandai in 1997 to design the branding, characters, and packaging for the international release of the Tamagotchi. The final style resembled crayon drawings, and the Tamagotchi logo he designed has been used with every international iteration of Tamagotchi since, despite the 2004 reboot introducing a new character art style that was shared across all regions. In addition to the classic Tamagotchi, BobCo Design also designed packaging and artwork for the Tamagotchi Angel, Tamagotchi Ocean, Tamagotchi Garden, and the first Digimon virtual pets.
In November 2009, BobCo Design was rebranded to BobCo Brands. In March 2012, BobCo Brands merged with AMP, an agency owned by Bob's friend and business associate Phil Buck, to form MIX Branding & Strategy.
External Links
Community content is available under
CC-BY-SA
unless otherwise noted.