Breakup!? MoriPakuCoffret Group (解散!?もりぱくコフレ団 Kaisan!? Moripakukofure dan) is part 1 of episode 44 of GO-GO Tamagotchi!. Along with part two, it is episode 265 overall. It initially aired on February 12, 2015.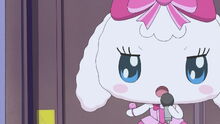 Summary
After a heated argument, Moriritchi and Coffretchi start avoiding each other, making Candy Pakupaku the last member of MoriPakuCoffret Group. However, after seeing Candy Pakupaku's hard work and sadness, Moriritchi and Coffretchi realize how much she needs them and they need each other.
Characters
Main
Community content is available under
CC-BY-SA
unless otherwise noted.