A Deka Tamagotchi (でかたまごっち Deka Tamagotchi) is a large Tamagotchi produced to promote certain Tamagotchi releases, and are found in shops and restaurants in Japan. Most Deka Tamagotchis feature a red, heart-shaped infrared sensor just above the screen, allowing certain Tamagotchi toys to connect. Deka Tamagotchis aren't sold to the general public, though some retired machines can be found online. All Deka Tamagotchis featured in shops and stores are plugged into the wall rather than running on batteries.
Variations
Tamagotchi Plus Deka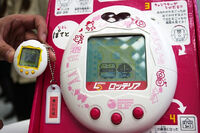 The first Deka Tamagotchi was released alongside the Tamagotchi Plus. They were found primarily in Lotteria restaurants, though some could be found in other shops and events. The characters varied between the shop's location, and each Deka was programmed with six possible characters: Bagatchi, Maikutchi, Capsuletchi, Omuratchi, Tsutayatchi, and Tamagotchi.
TamaTama Market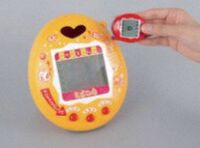 The TamaTama Market was released alongside the Keitai Kaitsuu Tamagotchi Plus. The character and items featured on the machine varied between the different regions of Japan. Each featured a small shop where a Keitai owner could purchase special foods for their Tamagotchi.
GameStation Deka
The GameStation Deka was released alongside the Chou Jinsei Enjoi Tamagotchi Plus. The GameStation Dekas had several games that Tamagotchi owners could play to win money, then transfer them to their Entama or UraTama.
Princess Tamako's Royal Market
The Princess Tamako's Royal Market (たまこ姫のロイヤルマーケット) Deka Tamagotchi was released alongside the Chou Jinsei Enjoi Tamagotchi Plus. Players could purchase special food items that would increase their Tamagotchi's Skill Points.
Jukutama
The Jukutama was released alongside the Tamagotchi School. This was similar to the GameStation except with different games and designs.
Home Deka Tamagotchi Releases
A Home Deka Tamagotchi is a Deka Tamagotchi available and intended for consumer purchase. The Yasashii Tamagotch could be considered the earliest example of a Home Deka. There is an extremely rare 'Golden Deka' as well. Quishideka is also popular in Japan. However this is the main Deka.
O-uchi no Deka Tamagotchi
The O-uchi no Deka Tamagotchi (おうちのでかたまごっち O-uchi no Deka Tamagotchi) was released July 2005 in Japan. It includes a stand for tabletop display, three-position volume adjust, and requires two AAA batteies.
The player is represented by an unnamed Tamagotchi character who initially lives in a small house in Tamagotchi Town. Through playing games and banking Gotchi Points, one can upgrade their house several times, the end result being a large Japanese-style palace. Each time an upgrade is performed, the capacity to keep various pets is increased. It is also possible to purchase a wide range of items to decorate the inside of the house, or to transfer over to the portable Tamagotchi toys.
A special green-colored edition was sold at Japanese Toys-R-Us stores, available either paired with a matching Akai Tamagotchi Plus toy or alone.
O-uchi no Deka Tamagotchi Game Ō Kettēsen
The O-uchi no Deka Tamagotchi Game Ō Kettēsen (おうちのでかたまごっち ゲーム王けってーせん O-uchi no Deka Tamagotchi Game Ō Kettēsen)is the second official home Deka Tamagotchi. The player is represented by the previous unnamed character once again. The main goal is to play and master a variety of games. The player can travel across the Tamagotchi planet, and Gotchi points won from games can be transferred to the Entama or UraTama.
Tamafure
See TamaFure.
More iD! Tamagotchi Home Station Plus
See More iD! Tamagotchi Home Station Plus.
U.S. Deka
Rumors have been circulating about the Deka being released in the U.S., though Bandai as not released any information on the subject. A report from the ASM'S Toy Fair 2005 describes a Deka seen in the Bandai America showroom of the event:
In the Bandai America showroom, there was a large Tamagotchi on display, at least a foot in height. This DEKA TAMAGOTCHI ("DEKA" meaning "huge") can connect with regular Tamagotchi using its IR port, and share special items or play special games. In Japan, the DEKA TAMAGOTCHI showed up at special retailers and fast food restaurants, allowing visitors to add a unique character exclusive to the DEKA TAMAGOTCHI to their Tamagotchi Friends List.
Unfortunately, the complicated licensing issues make it difficult to bring the DEKA TAMAGOTCHI to American fast food restaurants... but Bandai hopes to bring DEKA TAMAGOTCHI to special retail locations so that people can bring their TCv2 to connect and communicate.
Amy Lipkowitz, General Reporter, Source
Tamagotchi Friends Deka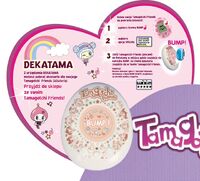 As revealed on the Polish Bandai web site, a DekaTama for the worldwide release Tamagotchi Friends will be available at selected stores. It uses near-field communication rather than infra-red that the other Deka Tamagotchis used. This DekaTama will allow users to choose and send accessories to their Tamagotchi Friends device.
Gallery
Community content is available under
CC-BY-SA
unless otherwise noted.