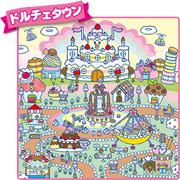 Dolce Town is a location at Tama Resort Island on Tamagotchi Planet.
Appearance
All the buildings of Dolce Town are themed after various baked goods and sweets such as macarons, muffins, pudding, pancakes, and boba tea. There is a big castle made out of strawberry cake and in front of it is a chocolate fountain.
On Virtual Pets
Dolce Town is an exclusive location to the Pastel version of the meets. To unlock it, the tamagotchi must win the cake game at the Game Corner 3 times. A cake shaped tamagotchi will arrive at the tamagotchi's house pushing a cart with a giant cake on it. They'll invite the tamagotchi to Dolce Town and they'll both walk over there, passing through woods where desserts grow on the trees.
Activities
Dolce Park
Exclusive residents can be talked to and played with here. If any of the residents are the mother or father of the user's tamagotchi they will not appear.
Sweet Shop
Pink Tourcontchi runs the nameless shop here. It sells meals, snacks, items and accessory wearables as part of the Tourcontchi Chain. All standard items and accessories are sold at every Tourcontchi chain shop and at the Tama Depa Store.
Meals:
FRUITS PASTA - 130G
CORN FLAKES - 80G
PANCAKE PLATE - 180G
Snacks:
MACARON TOWER - 130G
TAPIOCA DRINK - 160G
UNICORN CAKE - 210G
Items:
JELLY CUSHION - 520G
CREPE MACHINE - 960G
Accessories:
DOUGHNUT GLASSES - 600G
COTTON CANDY WIG - 500G
Cafe au Lait Pool
The tamagotchi will be greeted by Lattetchi who invites them to take a dip in the cafe au lait pool. Once the tamagotchi jumps in their body color will be changed to a light brown color. This change will last until the tamagotchi takes a bath.
If the tamagotchi returns to the pool while they are still light brown a Coffee Dorayaki will pop out. This food item can be eaten to unlock Wagashi Village.
Propose
The tamagotchi can propose to a resident if they have a ring.
Residents
Name
Artwork
Sprite
Gender
Marry
Favorite Items
Hotcaketchi

Male
Yes

Crepe Machine (Dolce Town)

Amamelotchi

Male
Yes

Jelly Cushion (Dolce Town)
Ball

Patitchi

Female
Yes

Crepe Machine (Dolce Town)
Jelly Cushion (Dolce Town)

Himedolcetchi

Female
Yes

Crepe Machine (Dolce Town)
Jelly Cushion (Dolce Town)
Coin Purse
Tote Bag

Lattetchi

N/A
Female
No
Gallery
Community content is available under
CC-BY-SA
unless otherwise noted.