Flower Garden is a location in Tama Resort Island on Tamagotchi Planet.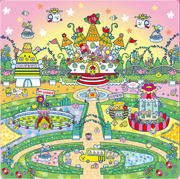 Appearance
The grounds of Flower Garden has many flowered hedges, plazas, and gazebos. There is a bee themed cafe along with a bee shaped bus and honey pot shaped building. In the main part of the area there is a castle covered in vines and various flowers.
On Virtual Pets
Flower Garden is the one of the exclusive locations to the Pastel version of the meets. To unlock it, the tamagotchi must play with the Honey Pot item which is randomly found from the Egg Hunt activity in Easter Island. Jyooubatchi will show up at the tamagotchi's home to invite and escort them to Flower Garden by calling upon her bee servants who carry them there.
Unlocking the location also unlocks the Flower Garden icon theme.
Activities
Park
Exclusive residents can be talked to and played with here. If the residents are the mother or father of the user's tamagotchi they will not appear.
Shop
Pink Tourcontchi runs the nameless shop here. It sells meals, snacks, items and accessory wearables as part of the Tourcontchi Chain. All standard items and accessories are sold at every Tourcontchi chain shop and at the Tama Depa Store.
Meals:
OHANA QUICHE - 150G
MIMOSA SALAD - 110G
HAPPY GRATIN - 180G
Snacks:
FLOWER DRINK - 120G
BOUQUET COOKIE - 150G
ROSE (ICE CREAM) CONE - 100G

Turns tamagotchi's color to red if fed 5 times consecutively
Items:
FLOWER CRACKER - 350G
FLOWER SWING - 800G
Accessories:
TULIP - 300G
OHANA EARRINGS - 800G
My Garden
Similar to My Farm in Tama Farm the tamagotchi can grow flowers if they visit the garden for some consecutive days. Rosetchi will greet the tamagotchi as they plant and water their flowers. If they manage to water the flowers every day, they'll get to harvest a flower accessory.
Propose
The tamagotchi can propose to a resident if they have a ring.
Residents
Name
Artwork
Sprite
Gender
Marry
Favorite Items
Flower Fleur

Female
Yes

Vegetable Seeds (Tama Farm)
Unicycle
Pastel Brush (Easter Island)
Flower Cracker (Flower Garden)

Yotsubatchi

Male
Yes

Suitcase
Vegetable Seeds (Tama Farm)
Canvas
Frisbee
Harmonica
Honey Pot (Easter Island)

Butterflytchi

Female
Yes

Hoe (Tama Farm)
Train Set (Toy Park)
Magazine
Chick Nesting Doll (Easter Island)
Honey Pot (Easter Island)

Jyooubatchi

N/A
Female
No
Rosetchi

N/A
Female
No
Community content is available under
CC-BY-SA
unless otherwise noted.