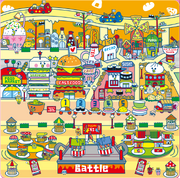 Food Town, known as Gourmet Street in Japan, (グルメストリート Gurume Sutorīto) is a location on Tamagotchi Planet.
Appearance
Food Town is full of lots of different restaurants, cafes, and markets. All of the buildings resemble various foods, drinks, or dishes. Even the clouds in the area resemble foods, such as pizza, bread, and rice balls.
On Virtual Pets
Food Town is available on all versions of the On. It is unlocked by eating omurice more than 5 times at the restaurant. Maidtchi will visit the tamagotchi at their home and transport them to Food Town using their magical serving dome.
Locations
Park
Exclusive residents can be talked to and played with here. If Kuchipatchi is currently being raised, or the other residents are the mother or father of the user's tamagotchi they will not appear.
Yellow Shop
Yellow Tourcontchi runs the nameless shop here. It sells meals, snacks, items and accessory wearables as part of the Tourcontchi Chain. All standard items and accessories are sold at every Tourcontchi chain shop and at the Tama Depa Store.
Meals:
SEAFOOD SOUP - 150G
HEART PIZZA - 150 G
SUSHI ROLL - 80G
Snacks:
PUDDING - 80G
GREEN SWEETS - 70G

Turns tamagotchi green if fed 5 times consecutively.

ICE CREAM - 80G
Items:
DIY SOBA - 400G
OVEN - 1500G
Accessories:
FRYING PAN - 600G
CHEF'S HAT - 400G
Sushi Bar (Game)
The tamagotchi will say the sushi that they want and then the sushi will start moving on the conveyor belt. When the correct sushi is under the red arrow, the A button must be pressed to select it. The conveyor belt will move faster with each correct selection. Selecting the wrong sushi ends the game and 5 correct selections ends as a perfect game.
Propose
The tamagotchi can propose to a resident if they have a ring.
Residents
Name
Artwork
Sprite
Gender
Marry
Favorite Items
Omechuptchi

Male
Yes

Oven (Food Town)
Hoe (Tama Farm)
Magic Hat (Wonder Garden)
Pastel Brush

Kappappatchi

Male
Yes

Planetarium (Starry Lab)
Flower Cracker
Fry Pan
Zero Gravity Room

Pizalinatchi

Female
Yes

Oven (Food Town)
Music Box

Kuchipatchi

Male
Yes

Soba Set (Food Town)
Magic Carpet
Magic Hat (Wonder Garden)
Chick Nesting Doll
Honey Pot

Happyburgertchi

Male
No
Chukatchi

Male
No
Gallery
Community content is available under
CC-BY-SA
unless otherwise noted.