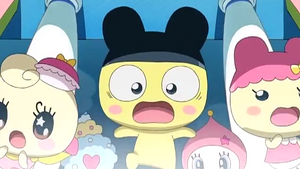 Formation! DoriTama School (誕生!ドリたまスクール Tanjō! Doritama sukūru) is part two of the debut episode of the fourth Tamagotchi! anime series, GO-GO Tamagotchi!. It first aired on April 3, 2014.
Plot Summary
Dream School and Tamagotchi School form into one. There is now a new format of classes, and Mametchi and his friends choose which subjects they want to study.
Characters
Main
Secondary
Videos
See also
Community content is available under
CC-BY-SA
unless otherwise noted.