Funsuitchi
(ふんすいっち)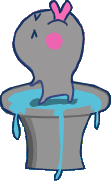 Genders and Appearances:
Hometown:
Guruguru Town
Funsuitchi (ふんすいっち Funsuitchi) is a male Tamagotchi from Guruguru Town.
Appearance
Funsuitchi has gray skin, pink cheeks, and a pink beak. His body is somewhat bulb-shaped, and his arms and legs are short. He stands in the fountain in the middle of Guruguru Town, and he usually sprays water from his mouth.
In the Anime
Funsuitchi has a brief cameo in Tamagotchi: The Movie.
Name Origin
Funsui (噴水) is Japanese for 'water fountain'. 
Gallery
Community content is available under
CC-BY-SA
unless otherwise noted.