This article is about the 2014 anime series. For the song, see GO-GO! Tamagotchi! (song).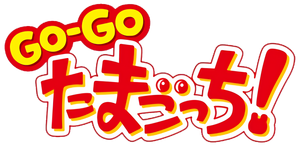 GO-GO Tamagotchi! (GO-GO たまごっち!, ゴーゴーたまごっち!) is the fourth (and so far final) Tamagotchi TV anime series of the Tamagotchi! anime franchise. It set after Tamagotchi! Miracle Friends. The series first aired on the 3rd of April 2014[1] on TV Tokyo and has ended on March 25, 2015.
All the main characters from the previous three series appear with the exception of Smartotchi (although he appears in a flashback). There are also three new central characters first debuted in this series, Neenetchi, Orenetchi and Lovesoratchi. In addition, Oyajitchi appeared in the series as a supporting character, making GO-GO Tamagotchi! his first Tamagotchi! anime appearance.
The first opening theme is a new version of the classic opening theme, and the ending theme is a new song, entitled "RAINBOW". Both songs are performed by a Japanese idol singer named "hitomi".[2]
The second opening theme is a remix of the classic opening theme and is sung by Mametchi, who is voiced by Rie Kugimiya. The ending theme is a violin version of Baby I, sung by American singer Ariana Grande.
Synopsis
Every 1000 years on Tamagotchi Planet, a special planet change occurs called Tamagottsun (たまごっつん). This is when two Tamagotchi towns, Tamagotchi Town and Dream Town collide to make one new town called DoriTama Town (ドリたまタウン Doritama Taun). The story of GO-GO Tamagotchi! focuses on this occurrence and the interaction of old and new Tamagotchi characters from both Tamagotchi Town and Dream Town pervious anime series.
Characters and Voice Cast
Episodes
Episode #
Japanese Title & English Translation
Original airdate
1
たまごっつん☆で大集合!? Tamagottsun ☆ de dai shūgō!? (Tamagottsun ☆ Big Meeting!?)
April 3, 2014

The mysterious 1,000 year phenomenon, "Tamagottsun," causes Tamagotchi Town and Dream Town to combine together into one in the series premiere about familiar friends and the wonderful new world under the Tamagottsun.

誕生!ドリたまスクール Tanjō! Doritama sukūru (Formation! DoriTama School)

Dream School and Tamagotchi School form into one, and the students must select which of the new classes they would like to participate in.

2
新入部員は未来から!? Shin iri buin wa mirai kara!? (New Entering Members are from the Future!?)
April 10, 2014

Familiar time-traveling friends from the future arrives to meet with Mametchi again.

みんなのまめっち部長 Minna no Mametchi buchō (Mametchi Director of Everyone)

Mametchi becomes the director of the Student Council Unit but he begins to lose confidence.

3
夢の共演☆ラブリン&ゆめキラ!! Yume no kyōen ☆ Lavulin & Yume Kira!! (Co-Star of Dream ☆ Lovelin & Yume Kira!!)
April 17, 2014

After studying in Idol Academy, Yumemitchi and Kiraritchi has return to DoriTama Town to appear in Lovelin's new TV program.

ギガキュン ♥ ねぇねキュン ♥ 二人の恋バナ Gigakyun ♥ Neenekyun ♥ Futari no koibana (Gigakyun ♥ Neenekyun ♥ Love Stories of Two)

Himespetchi and Neenetchi become friends as they talk to each other about their crushes.

4
ぐるぐる決戦!めめっちvsまきこ・・・再び!! Guruguru kessen! Memetchi vs Makiko... futatabi!! (Guruguru Battle! Memetchi vs Makiko... Again!!)
April 24, 2014

A spot for the director of the fashion department is open, leading to a fierce competition between Memetchi and Makiko.

GOTCHIMAN・ザ・フューチャー GOTCHIMAN・za・fyūchā (GOTCHIMAN・The・Future)

Gotchiman and the heroes must use the power of science from the future to defend the city from Black Hat.

5
結成!もりぱくコフレ団 Kessei! MoriPakuKofure dan (Formation! MoriPakuCoffret Group)
May 1, 2014

Moriritchi, Candy Pakupaku, and Coffretchi form a group called MoriPakuCoffret.

願いがかなう? ウワサのもしも山 Negai ga kanau? Uwasa no Moshimo Yama (Wishes Come True? Rumor of Moshimo Mountain)

A new landmark called Moshimo Mountain has formed. Rumor has it that whoever climbs the top, they will be granted one wish.

6
ドキドキ!交換お泊り会 Dokidoki! Kōkan o tomari kai (Dokidoki! Exchange Sleepover)
May 8, 2014

Mametchi and Coffretchi stay at the homes of each other.

乾杯! たまともつなぐミュージック♪ Kanpai! Tamatomo tsunagu myūjikku ♪ (Cheers! TamaTomo Connect Music ♪)

Pianitchi and Melodytchi spend some time together.

7
奇想天外!?迷宮のドリたまスクール Kisōtengai!? Meikyū no Doritama Sukūru (Bizarre!? DoriTama School's Labyrinth)
May 15, 2014

Mametchi and the girls are trapped in the mysterious labyrinths of DoriTama School as a result of the Tamagottsun and must find a way out.

おれの出番だ!ドリたまイレブン Ore no debanda! Doritama irebun (My Turn! DoriTama Eleven)

Kuromametchi is looking for more members for his soccer team and Orenetchi plans to get invited.

8
ナゾの注文?●△■!発明部のお客様 Nazo no chūmon? ●△■! Hatsumei-bu no okyakusama (Mystery's Request? ●△■! Customer of the Invention Department)
May 22, 2014

Students in robot class must build a robot consisting of three shapes.

もりもり?キラキラ?ごっつんファミリー Morimori? Kirakira? Gottsun famirī (Morimori? Kirakira? Gottsun Family)

The Tamamori Shop and Kirakira Tamamori Shop have combined and the two families consider themselves a one big family.

9
ちゃまはもうレディです~! Chama wa mō redi desu~! (Chama is Already Ready~!)
May 29, 2014

Chamametchi wants to be a makeup artist just like Coffretchi.

新作わきでる?ぱっちの森のわがシェボン Shin saku wakideru? Patchi no Mori no Wagashebon (New Spring Gushes Forth? Patchi Forest's Wagashebon)

The Wagassierbon pastry shop has moved to Patchi Forest. Wagassiertchi is having difficulties coming up with new recipes, so Kuchipatchi shows him around the forest.

10
アイドル卒業?!ラブリンとhitomiっち Aidoru sotsugyō?! Raburin to hitomitchi (Idol Graduation?! Lovelin and hitomitchi)
June 5, 2014

A renowned female idol has arrived. Lovelitchi is excited to meet her, but worries if she's not good enough.

11
ドキドキ!もうすぐオーディション Dokidoki! Mōsugu ōdishon (Dokidoki! Audition Soon)
June 12, 2014

There's an audition to star in a new show at the TV station, and Yumemitchi and Kiraritchi want to try out.

めざせ!アイドルの星 Mezase! Aidoru no hoshi (Aim! Star of Idols)

Yumemitchi and Kiraritchi will be starring in the new show, Aim! Star of Idols. However, mysterious problems occur on the first recording...

12
激闘!ワールドたまカップ Gekitō! Wārudo Tama Kappu (Fierce Fight! World Tama Cup)
June 19, 2014
The gang enter the World Tama Soccer Cup at an island for a fierce soccer tournament.
13
ねぇねっち ♥ 輝く! Neenetchi ♥ Kagayaku! (Neenetchi ♥ Shine!)
July 3, 2014

A special cheerleader show will be held at DoriTama School and Neenetchi trains hard to become a better cheerleader.

どうなる?明日のランチタイム Dō naru? Ashita no ranchitaimu (How to Make it? Lunchtime Tomorrow)

The students in the cooking department must cook cafeteria food for lunch tomorrow after the school's usual chefs have gone away for important errands.

14
作ろう!ドリたまスクールマップ Tsukurou! Doritama sukūru mappu (Let's Create! DoriTama School Map)
July 10, 2014

Mametchi proceeds to make a map of DoriTama School so students don't get lost.

モテ期到来!? スペイシーっち Mote ki tōrai! ? Supeishītch (Popular Time Arrival!? Spacytchi)

Spacytchi decides to enter the "beauty lottery" during his spare time.

15
見たでち~!ノックとんとんの秘密 Mitadetchi~! Nokku tonton no himitsu (Look Detchi~! Secret of the Knock Tap)
July 17, 2014

Miraitchi and Clulutchi's Knock Tap, their time-traveling device, goes missing. So the gang searches around DoriTama Town to look for it.

衝撃!キングスペイシー君臨 Shōgeki! Kingusupeishī kunrin (Shock! King Spacy Reigning)

Spacytchi's dream of conquering Tamagotchi Planet finally comes true.

16
ラブリっち、お姉さんになる Raburitchi, onēsan ninaru (Lovelitchi Becomes a Big Sister)
July 24, 2014

Lovelitchi gets a new sibling and is very excited to meet the baby soon.

17
メロメロ♥ふたりのお姉さん Meromero ♥ futari no onēsan (Madly in Love ♥ Two Big Sisters)
July 31, 2014

Lovelitchi and Melodytchi are left in charge of looking after Lovesoratchi while Lovemamalitchi and Lovepapalitchi are away.

ひめ修業で女子力アップ♥ Hime shūgyō de joshi ryoku appu ♥ (Princess Training in Girl Power Up ♥)

The girls at DoriTama School participates in a "princess training" session to polish their girl powers.

18
情熱開花!サマーフェスティバル Jōnetsu kaika! Samā Fesutibaru (Passion Blooming! Summer Festival)
August 7, 2014

The DoriTama Town Summer Festival sponsored by the Gotchi King will be held.

男二人の家出旅 Otoko futari no iede tabi (Runaway Journey of Two Men)

Orenetchi is angry at Neenetchi for treating him like a child, and so he runs away from home in anger. He comes across Gotchi King, who has run away as well.

19
ドリームビーチでコンサート♪ Dorīmu bīchi de konsāto ♪ (Dream Beach Concert ♪)
August 14, 2014

Pianitchi is teaching piano lessons to the children at Dream Garden but she is worried that her lessons aren't conveyed well. When Melodytchi hears this, she arranges a concert at Dream Beach.

約束の大海原デート Yakusoku no daikaigen dēto (Arrangement of an Ocean Date)

With the help of a mysterious voice heard from the bottom of the sea, Mametchi goes on an investigation and rides on Captain Gotchi. When Mametchi and his friends dive, they find an ancient undersea city. The identity of the mysterious voice turns out to be Boatchi, who lives in the ancient city. Is there enough time for Boatchi to arrange a date with the one he loves?

20
あれあれ??もりぱくコフレミクロ団?? Areare?? Mori Paku Kofure mikuro dan?? (Woah?? MoriPakuCoffret Micro Group??)
August 21, 2014

The MoriPakuCoffret Group eats some of Candy Pakupaku's candy that suddenly makes them smaller.

今夜はみんなでゾゾンビー Konya wa minna de zo-zonbī (Tonight, Everyone is a Zo-zombie)

Everyone in the planet becomes zombies and Mametchi trembles in fear.

21
夏休み!おれねっちの宿題大作戦 Natsuyasumi! Orenetchi no shukudai dai sakusen (Summer Vacation! Orenetchi's Homework Strategy)
August 28, 2014

Orenetchi needs to finish his homework, but he would rather go outside and play soccer. Neenetchi makes sure he does his homework, but Orenetchi tries to sneak away at every chance he gets.

マルシェへようこそ! Marushe e yōkoso! (Welcome to the Marche!)

Mametchi and his friends go to the Marche. Mametchi tries to sell an invention he has made, but nobody seems to be interested in it. Meanwhile, Chamametchi discovers that Mametchi dropped a very important part of the machine and must bring it back to him in time.

22
見つけよう!七色クローバー Mitsukeyou! Nanairo kurōbā (Try to Find! Rainbow Clover)

September

4, 2014

Lovelitchi, Melodytchi, and Pianitchi spend summer vacation at Melody Land. Later, the girls go perform a song for Joou Sama and later they meet a person searching for the legendary Rainbow Clover.

23
努力でみらくる!ラブリーファイヤー Doryoku de mirakuru! Raburi Faiya (A Miraculous Effort! Lovely Fire)
September 11, 2014

DoriTama School's gym class is split into three teams for a race through an obstacle course. Clulutchi doubts herself, but Lovelitchi encourages her and trains with her. On the day of the race, an unseen miracle is about to occur.

結成!おばけバスターズ Kessei! Obake basutāzu (Assemble! Ghost Busters)

The student council is called to investigate the possibility that DoriTama School may be haunted. Mametchi and his friends come together to form team of ghost busters.

24
王者はだれじゃ!? お笑いコンテス Ōja wa dare ja!? Owarai kontesuto (Who's the Champion!? Comedy Contest)
September 18, 2014

Tamagotchis compete in a comedy contest.

脱出せよ! 怪盗パピヨンの館 Dasshutsu seyo! Kaitō papiyon no yakata (Escape Event! House of Thief Papillon)

Thief Papillon invites detectives to test their wits in a labyrinth course.

25
料理部チャレンジ!新お子様ランチ Ryōri-bu charenji! Shin okosama ranchi (Cooking Unit's Challenge! New Children's Lunch)
September 25, 2014

A cooking unit led by Kuchipatchi has become bored of the usual dishes. A chef from a nearby restaurant requests a new children's lunch for his menu, and the cooking students take up the challenge.

ラブリン、たまシッターになる Raburin, tama shittā ni naru (Lovelin Becomes a Tama-Sitter)

Lovelin babysits young tamagotchis with Poketchi at the Tama Sitter House.

26
ラブソラっちのお気に入り! Rabusoratchi no Okiniiri! (Lovesoratchi's Favorites!)
October 2, 2014

Lovesoratchi becomes a young boy.

スタジオ見学で大冒険!? Sutajio kengaku de dai bōken!? (A Big Adventure During the Studio Tour!?)

Lovesoratchi comes to a photography tour event for "GOTCHIMAN The Future 2". After he gets lost in the studio, the Spacy Brothers find him.

27
メロディっち電撃結婚!? Meroditchi dengeki kekkon!? (Melodytchi Sudden Marriage!?)
October 9, 2014

Princetchi of the Twirl Kingdom falls in love with Melodytchi at first sight. He has come to DoriTama Town chasing Melodytchi. An uproar around the school and the town starts, and soon their engagement is declared on TV...?!

レッツゴー!ラブリンファンクラブ Rettsu gō! Raburin fan kurabu (Let's Go! Lovelin Fan Club)

Neenetchi and Kuromametchi go to one of Lovelin's concerts together. However, trouble has occurred on stage. At the time the concert might be cancelled, where is Kuromametchi...?!

28
はじめてのたまとも Hajimete no tamatomo (First-Time Tama Friends)
October 16, 2014

Lovesoratchi is dropped off at the Tamagotchi Daycare. He starts becoming anxious because of the people around him he doesn't know.

夢実現!GOTCHIMANファンの集い Yume jitsugen! GOTCHIMAN fan no tsudoi (A Dream Realized! The Gotchiman Fans' Meeting!)

Lovesoratchi roleplays with Mametchi and Chamametchi as the characters of GOTCHIMAN.

29
GOTCHIMAN・ザ・フューチャー2 GOTCHIMAN za fyūchā 2 (GOTCHIMAN The Future 2)
October 23, 2014

Gotchiman teams up with MameGotchiman and Lovelin to protect the city from the Black Hat.

フルーツ園でかみかくし!? Furūtsu-en de kamigakushi! ? (Spirited Away in the Fruits Garden!?)

Mametchi and his friends visit DoriTama School's fruit garden. There is an off-limits area in the garden, and if someone were to go there, it is rumored that they would mysteriously disappear. Kuchipatchi has ventured into the off-limits area in search of a rare fruit?!

30
輝く笑顔!ハッピーたまウィン Kagayaku Egao! Happī Tama-uin (Shining Smiles! Happy Tamaween)
October 30, 2014

The annual Tamaween arrives in DoriTama Town. This year, there will be a costume contest. Meanwhile, there is a shy boy from an isolated house in the outskirts of town and Mametchi and the trio suddenly stumble upon him.

31
キングスペイシー!再び!! Kingu Supeishī! Futatabi!! (King Spacy! Again!!)
November 6, 2014

Spacytchi's dream of ruling over Tamagotchi Planet continues. But two female wrestlers come to ruin his days...

ごっつん彗星がやってきた! Gottsun Suisei ga Yattekita! (The Gottsun Comet's Here!)

There will be a starry night sky tonight and Lovesoratchi is very excited to see the bright stars.

32
(空飛ぶ冒険家・モフモフっち Soratobu bōken-ka・Mofumofutchi (Flying Adventurer・Mofumofutchi)
November 13, 2014

Lovesoratchi meets a flying traveling adventurer with great tales of his adventures. He later reveals that he wants to fly to the Gottsun Comet for his next adventure.

33
モフモフっち、宇宙へ Mofumofutchi, Uchū e (Mofumofutchi, to Space)
November 20, 2014

Mofumofutchi flies to the Gottsun Comet for his next adventure. But something went wrong.

34
たまごっちスペースグランプリ Tamagotchi supēsu guran puri (Tamagotchi Space Grand Prix)
November 27, 2014

An interstellar cosmic race is being held at a space station.

35
ギガキュン!ねぇねキュン!大ごっつん!? Gigakyun! Neenekyun! Dai Gottsun!? (Gigakyun! Neenekyun! Big Gottsun!?)
December 4, 2014

Neenetchi and Himespetchi suddenly switch bodies and must find a way to get themselves back to normal while acting like each other.

36
ジ・アースへ!クリスマスの大冒険 Ji āsu e! Kurisumasu no dai bōken (To the Earth! Big Christmas Adventure)
December 11, 2014

When Santayellowtchi and Yellownosetchi go missing, Mametchi and the others must journey to The Earth to find them.

37
クリスマスの奇跡 Kurisumasu no kiseki (Christmas Miracle)
December 18, 2014

Human girls Yukine and Suzune help Mametchi and the others on their journey to find Santayellowtchi and Yellownosetchi in time for Christmas.

38
スイーツとバラのお姫様 Suītsu to bara no ohimesama (The Princess of Sweets and Roses)
December 25, 2014

Wagassiertchi becomes infatuated with Tropicatchi's friend, Himebaratchi. He tries to impress her by making desserts.

一日店長おれねっち〜♪ Ichinichitenchō Orenetchi 〜♪ (Orenetchi's First Day as a Store Manager〜♪)

Orenetchi wins a chance to work at TamaDepa, but finds it more difficult than he expected.

39
雪の世界でお姫様対決! Yuki no sekai de ohimesama taiketsu! (Princesses' Confrontation in the World of Snow)
January 8, 2015

Gotchi King and Tanetaneha the Great get their daughters, Princess Tamakoko and Tokonatchi respectively, to unwillingly compete against each other in the snow.

新たな部活?MPC?? Aratana bukatsu? MPC? ? (A New Club? MPC??)

Mametchi and the rest of the Student Council Unit must nominate a new club for DoriTama School.

40
ラブリンの相手役はだれだ? Raburin no aite-yaku wa dareda? (Who is Lovelin's Partner?)
January 15, 2015

Lovelin is going to star in a new drama, and Himespetchi tries her best to ensure that Mametchi doesn't get chosen to be Lovelin's partner in the series.

たたかえ!超能力学園 Tatakae! Chō nōryoku gakuen (Fight! ESP Academy)

Many mysterious events occur at ESP Academy in TAMAX-TV's newest series.

41
記念日をもう一度 Kinenbi o mōichido (Another Anniversary)
January 22, 2015

The anniversary of Madamtchi's shop opening is coming up. When Miraitchi and Clulutchi find a picture from the shop's opening and see Madamtchi looks upset, they travel back in time to find out what happened.

おねえさまになってください Onē sama ni natte kudasai (Please Be My Sister)

Himetchi and Momotchi are amazed at Miraitchi and Clulutchi's talents, and start trying to act like them.

42
はじめての秘密基地 Hajimete no himitsu kichi (The First Secret Base)
January 29, 2015

Lovesoratchi and his friends from daycare build a secret base.

三人の勇者と魔王の城 San'nin no yūsha to maō no shiro (The Brave Three and the Devil King's Castle)

Inspired by a hero story, the three kids set out for glory to fight a "evil king" themselves.

43
スイーツショック!わがシエっち Suītsushokku! Wagassiertchi (Sweets Shock! Wagassiertchi)
February 5, 2015

Patitchi tells Wagassiertchi that she wants to try working at other shops outside Wagassierbon. When Wagassiertchi becomes depressed, Mametchi gathers friends to show Wagassiertchi their appreciation for him.

ピアニっちの夢と約束 Pianitchi no yume to yakusoku (Pianitchi's Promised Dream)

Principal Dobitchi, the principal from the prestigious Dobitchi College of Music, comes to DoriTama Town to scout for talent, and sees Pianitchi as a potential student. Pianitchi struggles to choose between following her dream or keeping her promise to Smartotchi.

44
解散!?もりぱくコフレ団 Kaisan!? Moripakukofure dan (Breakup!? MoriPakuCoffret Group)
February 12, 2015

Moriritchi and Coffretchi fight with each other and leave the MoriPakuCoffret group, leaving Candy Pakupaku as the only remaining member.

モテモテ?ドキドキ♥バレンタイン Motemote? Dokidoki♥ Barentain (Popular? Heart Beat♥ Valentine)

Orenetchi wishes for Momotchi and Himetchi to give him Valentine chocolates, but he doesn't seem to get any at all.

45
ドリームメイクで社交界デビュー Dorīmu meiku de shakō-kai debyū (Dream Makeup High Society Debut)
February 19, 2015

Coffretchi uses her make-up on royalty at Gotchi King's castle for the first time, where she also helps Princess Tamakoko gain confidence.

バンドやろうよ! Bando yarouyo! (Trying Out For the Band!)

A shy but talented young Tamagotchi called Nadeshikotchi inspires Yumemitchi and Kiraritchi to continue the Kirakira Girls band.

46
たまにはゆっくり♪ラブメロ二人旅 Tamani wa yukkuri ♪ rabumero futaritabi (Restful Occasion ♪ LoveMelo Travel Buddies)
February 26, 2015

Lovelitchi and Melodytchi take a relaxing break from work by going on a journey without a specific destination.

未来はどっち?めめっちの決意 Mirai wa dotchi? Memetchi no ketsui (Which Future? Memetchi's Determination)

Memetchi sees possible outcomes of her future thanks to an invention by Mametchi.

47
まめっちファミリーの晩ごはん Mametchi famirī no ban gohan (Mametchi Family's Supper)
March 5, 2015

Mametchi and the rest of the family try to have a peaceful supper together, but keep getting interrupted.

主役交代?!GOTCHIMAN Shuyaku kōtai?! GOTCHIMAN (The Main Character Has Changed?! GOTCHIMAN)

Gotchiman is in despair now that a spin-off featuring Smile Spark Candy Girl has replaced his show.

48
はじめまして?のたまごっち Hajimemashite? no Tamagotchi (How Do You Do? Tamagotchi)
March 12, 2015

Mametchi meets a troubled old lady who is hoping to have a tour of DoriTama Town.

たまごっち星の涙 Tamagotchi Hoshi no Namida (Tamagotchi Planet's Tears)

Tamagotchi Planet is having frequent "Gottsun" occurrences, and Mametchi has a dream that the planet is upset.

49
たまごっつんが終わるとき Tamagottsun ga owaru toki (When Tamagottsun Ends)
March 19, 2015

The quest to make Tamagotchi Planet smile continues. As people compile strategies to get Tamagotchi Planet happy, more and more Gottsun occurs and Mametchi feels as if he is being called out somewhere that could cure Tamagotchi Planet's sadness.

50
笑って笑って またごっつん! Waratte waratte matagottsun! (Laughing, Laughing, Another Gottsun!)
March 26, 2015

Everybody must give it all they got to make Tamagotchi Planet happy again.
Gallery
Episode 13

Episode 14

Episode 15

Episode 16

Episode 17

Episode 18

Episode 19

Episode 20

Episode 21

Episode 22

Episode 23

Episode 24

Episode 25

Episode 26

Episode 27

Episode 29

Episode 30

Episode 31

Episode 32

Episode 33

Episode 34

Episode 35

Episode 36

Episode 37

Episode 38

Episode 39

Episode 41

Episode 42

Episode 43

Episode 45

Episode 46

Episode 47

Episode 48

Episode 49
Music
Opening Credits
Song title
Episodes song aired
Watch Japanese version
Watch English version
Watch Tagalog version
Watch Chinese version
Singer
Chorus
Publisher

JP: GO-GO たまごっち!

Episode 1-25
YouTube
Unavailable
Unavailable
Unavailable
hitomi
Love Life Records
Episode 26+
YouTube
Unavailable
Unavailable
Unavailable
釘宮 理恵
Ending Credits
Song title
Episodes song aired
Watch Japanese version
Watch English version
Watch Tagalog version
Watch Chinese version
Singer
Chorus
Publisher

JP: RAINBOW

Episode 1-25
YouTube
Unavailable
Unavailable
Unavailable
hitomi
Love Life Records

JP: ベイビー・アイ

Episode 26+
YouTube
Unavailable
Unavailable
Unavailable
Ariana Grande
Trivia
Unlike the three previous Tamagotchi! series, GO-GO Tamagotchi! has a narrator. The characters are able to hear what the narrator says and sometimes the narrator converses with them.
This is the first series to have two seperate episodes since the first series. This is also the first episode since the first series where Mametchi, Memetchi and Kuchipatchi don't appear in every episode since the first series.
This was the final sequel to the series and the series finale to the Tamagotchi! anime series before the revival is still unknown.
This series marks the last instance of Memetchi, Kuchipatchi, Melodytchi, Spacytchi, Akaspetchi, Himespetchi, Yumemitchi, Miraitchi, Candy Pakupaku and Watchlin as main characters.
Gallery
Videos
References
External Links