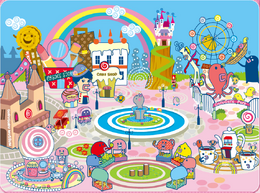 Guruguru Town (ぐるぐるタウン Guruguru Taun) is Memetchi's hometown. It is based on the 'cheerful' characteristic.
Appearance
The design of Guruguru Town reflects the trademarks of Memetchi's curly hair and the sweetness of her personality. The bright colors of the town, such as pink and yellow, emphasize the aspects of the 'cheerful' characteristic.
List of Characters from Guruguru Town
Locations
GuruGuru Park - An amusement park. Some of the rides include a Ferris wheel, a rocking boat ride, and a spinning ride. Octopatchi works here.
GuruGuru Cafe - A shop that specializes in drinks such as coffee and tea.
GuruGuru Museum - A place where Tamagotchis can learn all about swirly things.
Guruguru Shop - A cake shop which specializes in Swiss rolls.
Cosme Shop - A shop that sells cosmetics.
On Virtual Pets
Guruguru Town is a visitable location.
In the Anime
Guruguru Town can occasionally be seen in Tamagotchi: The Movie, Let's Go! Tamagotchi, and the Tamagotchi! series.
Tamatown Depictions
Guruguru Town was accessible on the TamaTown websites for the Chou Jinsei Enjoi Tamagotchi Plus and the Tamagotchi Connection Version 4/4.5.
In the V4/V4.5 version, players could visit the Artistic Work Building and the Convenience Store. The 'Jug of Milk' and 'Smoothie' souvenirs could be obtained at the Convenience Store, which could then appear on the player's device if they entered a code.
In Other Tamagotchi Media
Guruguru Town is one of three places where shops are located in Tamagotchi Connection: Corner Shop. It is also a visitable location in Tamagotchi no Appare! Niji-Venture.
Gallery
Community content is available under
CC-BY-SA
unless otherwise noted.