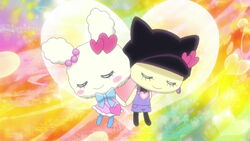 Happy Heart (ハッピーハート Happī Hāto) was released in Japan on 2011/09/05, in episode 95 of Tamagotchi!; the same episode where Lovelitchi and Melodytchi changed into their Tama-Friend Tama Heart forms.
The song is sung by Lovelitchi and the music is performed by Melodytchi on her Melody Violin.
The full version of the song first appeared in episode 137 of Tamagotchi!, as background music along with Lovelitchi singing. It was later released on the Ready GO Hasha GO Daishu GO! Tamagotchi! CD.
Lyrics
Japanese Lyrics
Japanese (日本語)
Rōmaji

一緒にいる それだけで
キミがくれる わ・く・わ・く
すごく 元気になるんだ
キミが くれる 頑張ろう
1人だと できないけど
キミとならできる 「ミ・ラ・ク・ル」
大きな声で まっすぐ キミに言うよ「ダ・イ・ス・キ」
気持ちと気持ち ぴたっと くっついて
何百倍のパワーだね
それって もう 無限大のハッピー
ハート フルルン フルルン フルフルン ハッピーハート
キラキラ フレフレフレフレ フレンズ
みんな 最高「YEAH」
ハート ウルルン ウルルン ウルフルン ハッピーハート
ドキドキしちゃう ストーリー
みんなで描こう
なんかいつもつられちゃう
君のくれるスマイル
ちょっと照れるけど嬉しい
君がくれる「ありがとう」
たまにケンカしちゃうけど
君とならできる仲直り
意地っ張りなんてやめて
君に言うよ「ごめんね!」
ココロとココロ ギュッとつながって
何百倍の勇気だね
ほら それってもう 無限大のハッピー!
もっと ハートフルルン フルルン フルフルン ハッピーハート
キラキラ フレフレフレフレ フレンズ
宝物だよ!
ハートフルルン フルルン フルフルン ハッピーハート
一緒に 夢いろレインボー
みんなで渡ろう!

issho ni iru sore dake de
KIMI ga kureru wa ku wa ku
sugoku genki ni naru n da
KIMI ga kureru ganbarou
hitori da to dekinai kedo
KIMI to nara dekiru "MI RA KU RU"
ooki na koe de massugu KIMI ni yuu yo "DA I SU KI"
kimochi to kimochi pitatto kuttsuite
nan-byaku bai no PAWA da ne
sore tte mou mugendai no HAPPII
HAATO FURURUN FURURUN FURUFURUN HAPPII HAATO
KIRA KIRA FURE FURE FURE FURE FURENZU
minna saikou "YEAH"
HAATO URURUN URURUN URUFURUN HAPPII HAATO
DOKI DOKIshichau SUTOORII
minna de egakou

Rōmaji by Umbreon126
Trivia
An instrumental version of the song plays in the background during one of the games in the Tamagotchi iD L Princess Spacy version.
The song is similar to Happy Happy Harmony, which was also performed by Lovelitchi and Melodytchi.
This is the third song performed by both Lovelitchi and Melodytchi.
Videos
Community content is available under
CC-BY-SA
unless otherwise noted.