Kakinotanetchi (かきのたねっち) is a male Tamagotchi who appeared in Tamagotchi! Yume Kira Dream.
Appearance
Kakinotanetchi has orange-brown skin, and his head is shaped like a persimmon seed.
When he was younger, he had brown eyebrows and wore a blue cap, a green scarf, a white tank top with yellow lightning streaks, and gray pants.
In his older years, he has gray hair and eyebrows, and he wears a green scarf, a red long-sleeved shirt, and gray pants.
Personality
According to Kakinotanetchi's profile on Tamagotchi Channel, he is a chef who makes treats that are both sweet and salty. Recently, he and Lady Babatchi have collaborated and are selling sweet and salty chocolate treats.
In the Anime
Tamagotchi! Yume Kira Dream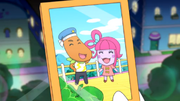 Kakinotanetchi is a minor character. He appears in episode 32, where he can only be seen in a photograph. Lady Babatchi is in love with him. She and Kakinotanetchi had previously split up and not seen each other for a while. However, she decides to call him and make up. At the end of the episode, they are engaged to each other.
Name Origin
Kakinotanetchi's name comes from kaki no tane, (柿の種) which are puffy rice crackers that are shaped to look like persimmon seeds. This is because his head has the same shape as the crackers.
Trivia
Although Tamagotchi Channel has artwork of Kakinotanetchi as a elderly Tamagotchi, it is unknown if he ever appeared in the anime with this appearance.
Community content is available under
CC-BY-SA
unless otherwise noted.