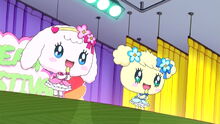 Kirakira☆Dream (キラキラ☆ドリーム Kirakira☆Dorīmu) is a song featured in Tamagotchi! Yume Kira Dream. It was featured in the first episode and featured again in episode two when Yumemitchi and Kiraritchi performed with it on stage. It is often performed by the Kira Kira Girls band but the song was originally by D2.
The full version of the song has additional vocals by Himespetchi and Pianitchi.
The song was sung by Misato Fukuen and Megumi Toyoguchi. It was first released in Japan on 2012/09/10.
Lyrics
Japanese (日本語)
Rōmaji

どっきどっきときめき キラキラドリーム
きみときみと ハートハート
ぎゅぎゅっとつないでいこうよ
Go your own way!

虹色のリボンをぎゅっと結んで
みずたまリをピョンと跳び越えて
ねえ すてきな未来は始まったの きっと
こころのコンパスは迷わないよ

いつだって どこだって まっすぐに あっちだよ
ゆめの待ってる場所を目指して

どっきどっきときめき キラキラドリーム
スキスキスキスキ スキップスキップ
ウキウキドリーム

ワクワクくるるんるん キラキラドリーム
今は今は チャンスチャンス
がんばる気持ちは魔法だね
ハートつないで明日へ イェイ

dokki dokki tokimeki KIRA KIRA DORIIMU
kimi to kimi to HAATO HAATO
gyu-gyutto tsunaideikou yo
Go your own way!

nijiiro no RIBON wo gyutto musunde
mizutamari wo PYON to tobikoete
nee suteki na mirai wa hajimatta no kitto
kokoro no KONPASU wa mayowanai yo

itsudatte dokodatte massugu ni acchi da yo
yume no matteru basho wo mezashite

dokki dokki tokimeki KIRA KIRA DORIIMU
SUKI SUKI SUKI SUKI SUKIPPU SUKIPPU
UKI UKI DORIIMU

WAKU WAKU kururunrun KIRA KIRA DORIIMU
ima wa ima wa CHANSU CHANSU
ganbaru kimochi wa mahou da ne
HAATO tsunaide ashita he IEI

Rōmaji by Umbreon126
Birthday version
Japanese (日本語)
Rōmaji

Congratulation ieeeeeeee!
みんなが ハッピーバースデー
楽しい ハッピーバースデー
おめでとう おめでとう
カフェママ  カフェママ 
いつも ありがとう
みんなが ハッピーバースデー

Congratulation ieeeeeeee!
minna ga HAPPII BAASUDEE
tanoshii HAPPII BAASUDEE
omedetou omedetou
KAFE MAMA KAFE MAMA
itsumo arigatou
minna ga HAPPII BAASUDEE

Lyrics from unknown
Rōmaji by Umbreon126
Trivia
Video