Lovelitchi
(
ラブリっち
Raburitchi
), also known as
Lovelytchi
and by her stage name
Lovelin
, is a female adult Tamagotchi character who debuted on the
Tamagotchi iD
and in the first episode of the
Tamagotchi!
anime. Lovelitchi has become one of the central characters and secondary mascots in the series since 2009. Her best
Tama-Friend
is
Melodytchi
, whom she makes popular songs with.
Her parents are Lovemamalitchi and Lovepapalitchi, and her younger brother is Lovesoratchi.
Appearance
Lovelitchi resembles a white bunny and may be based on an Angora rabbit. She has fluffy fur, pink cheeks, and two upright, woolly ears. Her eyes are teal with sparkle-shaped highlights. She wears a dress, stockings, a heart-shaped purse, and decorations around her ears. There are two primary designs of Lovelitchi because her outfit was changed.
In her original design, she wore a frilly blue dress with a fuzzy pink collar, dark pink stockings, and a blue ribbon on each ear.
In her updated design, she wears a light pink dress with a white frill and light blue bow, blue stockings, and two pink beaded ear accessories (one of which has two dark pink hearts on it).
Personality
Lovelitchi is a sweet, sensitive girl who cherishes her family and loves meeting new people. She can become shy and nervous about herself at times since she has so many fans. She is very kind and likes to help out, which can lead to her worrying about pleasing everyone. Her friends have helped her gain some confidence. She likes singing, dancing, and trying on new outfits. She is positive and hardworking, even when it comes to her career as a superstar.
Throughout the anime series, it is mentioned that Lovelitchi enjoys reading and can be slightly air-headed at times. It is also revealed that her favorite food is Neopolitan ice cream, and her least favorite food is bell peppers.
On Virtual Pets
The main Tamagotchi versions she appears on are the Tamagotchi iD, Tamagotchi iD L, and the TamaTown Tama-Go.
Tama-Go
On the Tama-Go she is obtained by giving excellent care. She evolves from Shelltchi, Mikazukitchi, or Chuchutchi.
Tamagotchi iD
In the Tamagotchi iD Lovelitchi evolves from Shelltchi, and can be obtained with 0 care mistakes. She can reach Tamatomo level by purchasing and putting on the Heart sunglasses, playing with the mic toy, and eating the love cake.
Tamagotchi iD L
She is obtainable in the Tamagotchi iD L series by raising her from Painaputchi (Also applies to the Princess Spacy Ver.) with 0-1 care misses.
Tamagotchi P's
Lovelitchi appeared in the Tamagotchi P's as a special character raised only when connecting the Love & Melody Tama Deco Pierce to the device. She can be obtained by playing with the stage mic 3 times with any female teen character.
Name Origin
The name Lovelitchi is actually Lovelytchi. But the letter 'y' isn't used as a vowel, only 'li' (リ). In English, Bandai America named her Lovelytchi on the Tama-Go but changed it to Lovelitchi in the anime to keep the connection to Lovelin, her secret identity.
In the Anime
Lovelitchi is one of the main female characters in the anime, Tamagotchi!. She was first seen in episode 1, part 1 and then made her major debut in episode 2, part 1.
Lovelitchi is a shy but kind and a sweet young girl. She often feels nervous but she can stand up to herself now that she has friends. She lives in the TamaCafe with her family, Lovepapalitchi and Lovemamalitchi, which also acts as a cafe restaurant run by her mother and father.
Lovelitchi leads a secret double-life under the stage name Lovelin. As Lovelin, she is the most popular idol of all in Tamagotchi Town. She appeared in many activities as a host, singer, reporter, and often as the lead character in television shows.
In the past, Lovelitchi kept trying out new schools but none of them made her happy. Her classmates always bullied her and called her a show-off because they were jealous of her popularity, and pretended to be her friend just to get autographs from her. As a result, when Lovelitchi moved to Tamagotchi Town, she decided to keep her identity as Lovelin a secret so that nobody at her new school would bully her.
When Lovelitchi was first introduced at Tamagotchi School, everyone was excited to meet her, and Lovelitchi later reveals to Manenetchi that she couldn't believe how her new classmates welcomed her. One day, Mametchi tells Lovelitchi that he sees her as a Tama-Friend, but that eventually gets Lovelitchi worried because Tama-Friends never lie. She feels that her friends would hate her because she has been keeping a secret from them. But on Mametchi's birthday, she finally reveals her secret to all her Tama-Friends. She is unsure how they will react and when they treat her with understanding, Lovelitchi cries with happiness.
Kuromametchi knew that Lovelitchi was Lovelin ever since she joined Tamagotchi school, and often worked hard to keep her secret safe. After her confession in episode 6, only Lovelitchi's Tama-Friends knew she was Lovelin. But in episode 47, Lovelitchi announced her secret to the whole school. Uwasatchi, who used to suspect that Lovelitchi was hiding secrets, was in denial that she was actually Lovelin. Lovelitchi had to spend the day proving she was Lovelin, and ended up bonding with Uwasatchi in the time they spent together.
In the last arc of the original Tamagotchi anime series, Lovelitchi and Melodytchi collect Tama Hearts on their Tama Profys, usually at the end of each episode.
After Tamagotchi! ended, Lovelitchi only appeared once during Tamagotchi! Yume Kira Dream, in episode 10 where she and the other original cast members gave Mametchi a party to celebrate his birthday and welcome him back home. She had no appearances in the following season, Tamagotchi! Miracle Friends. However, she returned as a main character in GO-GO Tamagotchi!. She first appeared in episode 1, where she reunites with Mametchi. She is introduced to Pianitchi, Coffretchi, and other Dream Town residents, as well as the two new students Neenetchi and Orenetchi. Later, she forms a partnership with Yumemitchi and Kiraritchi and performs with them as Lovelin.
She greatly admires Hitomitchi and at first was worried that she was "better" than her, and tried to change her own idol style to become good enough. However, Hitomitchi taught Lovelitchi to just be herself and Lovelitchi continued with her usual style of music.
As of episode 16 of GO-GO Tamagotchi!, Lovelitchi has a younger brother named Lovesoratchi.
Appearance Change
In episode 95 of Tamagotchi!, Lovelitchi's appearance had changed into Tama Heart form. The outfit change was given to Lovelitchi by her mother, Lovemamalitchi. The two Tama Hearts were added by Moriritchi.
Lovelitchi's two bows were replaced with two ancient like Tama Hearts, and a pink beaded scrunchie similar to her Lovelin identity. Her dress color has been changed to pink with another white dress underneath, her neckline was changed with a blue bowtie with long ribbon strands, and her stockings' colors were changed to blue instead of pink. Her pink heart shoulder bag is still the same.
Relationships
Lovelitchi first met Mametchi as Lovelin, interviewing him before the big Tama Street race. His selflessness in saving Kuchipatchi before the end of the race was one of the factors that helped Lovelitchi decide to move to Tamagotchi Town. While attending Tamagotchi School, Lovelitchi became close friends with Mametchi and he taught her about the concept of Tama-Friends. She revealed her secret identity at his birthday after he waited for her to come to his party despite how late she was. As with most male Tamagotchi characters during the first season, it was implied that Mametchi had a crush on Lovelitchi (or her idol form), but that implication has since been dropped.
Lovelitchi first saw Melodytchi on television, playing her violin. Lovelitchi found the music beautiful and admired Melodytchi's talent. When Melodytchi arrived at TAMAX-TV, Lovelitchi recognized her immediately and was quick to introduce herself. While Lovelitchi was interviewing Melodytchi for a TAMAX-TV show, Lovelitchi was able to relate to Melodytchi. When Lovelitchi was performing a live concert and the power went out, Melodytchi played her violin to save the concert and the two girls became the best of friends. Melodytchi now lives at Tama Cafe with Lovelitchi and they do nearly everything together. As Melodytchi has a more upbeat personality, she often encourages Lovelitchi when she is doubting herself.
When Lovelitchi first met Moriritchi at Tamagotchi School, she was put off by her overzealous personlity and eccentric catchphrases. However, after inviting Moriritchi over and seeing her decorate the room with Tamamori, Lovelitchi started to become friends with her. Lovelitchi, Melodytchi, and Moriritchi became a trio often seen together in the anime and merchandise. However, in GO-GO Tamagotchi!, Lovelitchi and Melodytchi were in a trio with Pianitchi instead while Moriritchi was grouped with Coffretchi and Candy Pakupaku.
Despite his aloof nature, Kuromametchi seems to be the Tamagotchi who understands and cares for Lovelitchi the most. He knew of her secret identity from the very beginning but never revealed it, and would always strive to help her and protect her identity. He has Lovelin posters all over the walls of his room, leads her fanclub, and is one of the only male Tamagotchis whose infatuation with her has remained throughout the series. He also tried to get her to think twice when she was changing herself in order to impress Hitomitchi.
Others
Memetchi was the first student to talk to Lovelitchi when she joined Tamagotchi School, and they bonded over a stylish charm Lovelitchi had on her purse. Lovelitchi cancelled everything on her schedule and hugged Memetchi while crying when she thought she was moving away.
Manenetchi is Lovelitchi's manager who deeply cares about her and always strives to make sure she remains on schedule, but doesn't want Lovelitchi to overwork herself.
Telelin is Lovelitchi's cell phone gifted to her by her father, that she named after herself. Telelin was then brought to life by the Kuchipatchi of Truth and often rides in Lovelitchi's bag.
TamaPtchi is a director at TAMAX-TV who directs many of the shows Lovelin stars in. While he can be strict with other Tamagotchis, he is gentle to Lovelitchi and often calls her affectionate nicknames.
Madonnatchi is a child actress at TAMAX-TV who hates and is jealous of Lovelin. She wants to get rid of Lovelitchi so she can become the most popular idol instead, but her traps often backfire and Lovelitchi is oblivious to this.
Kizunatchi is Lovelitchi's companion who guided her in collecting Tama Hearts on her Tama Profy during the original series.
Uwasatchi was suspicious of Lovelitchi ever since she joined Tamagotchi School and put her secret identity in jeopardy a few times. However, when it was finally revealed that Lovelitchi and Lovelin were one and the same, Uwasatchi refused to believe it and needed as much proof as possible.
Stylitchi is Lovelitchi's stylist who does her make-up and provides her with outfits, usually for her concert performances.
Other Forms
Lovelin
Young Lovelitchi
Young Lovelitchi (やんぐラブリっち Yangu Raburitchi) is Lovelitchi in her much younger years, about 6 - 8 years ago. She is very mischievous and a crybaby, always running into everything and crying a lot. Her behavior is somewhat similar to Chamametchi; she can be child-like and sometimes stubborn. She has only appeared on the TV anime show, Tamagotchi! twice.
Lovely Fire
Lovely Fire (ラブリーファイヤー Raburī Faiyā) is one of Lovelitchi's Personality Stage forms. Her ears catch on fire and her eyebrows become thick and furrowed. In this form, she is very determined, and becomes much faster and stronger. Her burning ears can also catch other things on fire as well.
PochaLovelitchi
PochaLovelitchi is Lovelitchi's other Personality Stage form. In this form, she is very large from eating too much food. Her eyes and mouth become smaller, and her arms stick out more. She also wears a different dress.
Patchi Forest's Lovelitchi
In the secret Tamagotchi Village of Patchi Forest, there resides another Lovelitchi in a sort of alternate reality, along with Mamesaku and other alternate forms of Kuchipatchi and Memetchi. This Lovelitchi wears a blue hood and brown striped cloth, as well as other villager attire. She also lacked the accessories on her ears. She proclaimed that she is talented at singing, which is proven to be true, as shown with her other self and Melodytchi.
Unique to other residents of the village, due to both Lovelitchis appearing at the same time, many villagers (including Mamesaku) are unable to distinguish between the two and think that either the original Lovelitchi is her Tamagotchi Village counterpart or that they are twins, as they both looked and acted nearly identical.
This Lovelitchi is a different individual with the original one, unlike Kunoichi Lovelin, who only appears as a dual role.
Family
Lovelitchi's mother who works at Tama Cafe.
Lovelitchi's father who works at his own photographing shop on Tama Street.
Lovelitchi's little brother who loves the sky.
Sprites
Classic

Nano

iD

iD L

Tama Profy

iD L 15

m!x

Names in other languages
Region
Release
Name
Etymology
Taiwan

甜心吉

Tiánxīnjí
甜心 "honey; sweetheart; sweetie" + 吉 "-tchi"
Hong Kong
Anime

小甜心

siu2 tim4 sam1
小 (diminutive prefix) + 甜心 "honey; sweetheart; sweetie"
Patchi Forest's Lovelitchi
| Region | Name | Meaning |
| --- | --- | --- |
| Cantonese (Hong Kong) | 阿Love小姐 | Miss Love |
Trivia
Since Lovelitchi's debut in Tamagotchi!, Lovelitchi became the main female mascot for the Tamagotchi brand featuring alongside Mametchi in many products and adverts.
During the 15th Anniversary Poll, Lovelitchi was voted the third most popular female character behind Melodytchi and Moriritchi. However, in a Club Tamagotchi poll asking which character fans were excited to see in GO-GO Tamagotchi!, Lovelitchi ranked first place with 25% of votes.
Mimitchi was one of the only characters in the anime to point out that Lovelitchi looks like Lovelin and has a similar name, before knowing her secret.
When Lovelitchi was an egg, it was blue with pink hearts. When she was a baby, she was a Choribotchi with a blue ribbon instead of a red one.

Strangely enough, she had another baby stage in one episode, where she looked very much like her past appearence, except her ears are smaller, has a pacifier in her mouth, and wears a pink onesie with a bib. This is technically after her life as a Choribotchi. She later had a child-stage version of her, where she has yellow bows on her ears.

In some episodes, Lovelitchi is seen to be very talented at drawing.
Counting all forms of Lovelitchi (including all forms of Lovelin and the alternate reality Lovelitchi that resides in Tamagotchi Village), she has the second highest number of forms among all other Tamagotchis, which surpasses other mascots of the same franchise. The Tamagotchi with the most forms is Mametchi.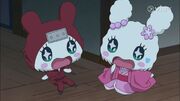 In episode 132 of Tamagotchi!, the scene where Lovelitchi meeting her other self might be taken from the concept of the first half of episode 37, albeit in her idol form. However, while the latter is only a show of TamaPtchi, the former one did exist.
See also
Gallery
Community content is available under
CC-BY-SA
unless otherwise noted.