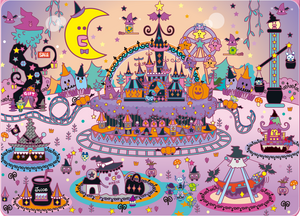 Magic Land (マジカルランド) is a location on Tamagotchi Planet.
Appearance
Magic Land is a star-shaped island with many witchcraft and fantasy-inspired elements. The majority of the island is taken up by a theme park with many attractions and shops.
On Virtual Pets
Magic Land is unlocked exclusively on the Magic version. From the third generation onward, the background must be changed to the Magical Room, and then the user's tamagotchi must visit the backyard after 7 PM. A rainbow will appear and the tamagotchi will run up it and other rainbows, passing by flying gifts and a royal servant, Majokkotchi, and Decotchi floating on moons. They will end up running into Magic Land.
Activities
Park
Exclusive residents can be talked to and played with here. If a resident is one of of the user's tamagotchi's parents they will not appear.
Shop
Black Tourcontchi runs the nameless shop here. It sells meals, snacks, items and accessory wearables as part of the Tourcontchi Chain. All standard items and accessories are sold at every Tourcontchi chain shop and at the Tama Depa Store.
Meals:
HERB SALAD - 70G
DOKI SOUP - 200G
HOT POT - 180G
Snacks:
CANDY DROP - 240G

This will turn the tamagotchi purple if fed 5 times consecutively

MAGIC DROP - 180G
CHURRO -130G
Items:
FLY CARPET - 1200G
FORTUNE (TELLING MIRROR) - 1600G
Accessories:
WITCH HAT - 600G
UMBRELLA - 900G
Festival
This will play one of these animations:
The tamagotchi rides the pumpkin rollercoaster
The tamagotchi visits the magic castle and Majoritchi gifts them the Balloon accessory (if visited after 7 PM)
Propose
The tamagotchi can propose to a resident if they have a ring.
Residents
Name
Artwork
Sprite
Gender
Marry
Favorite Items
Majoritchi

Female
Yes

Fortune (Magic Land)
Magic Set (Toy Park)
Music Box (Fairy Land)
Harmonica (Anywhere)

Korobatchi

Male
Yes

Fly Carpet (Magic Land)
Magic Set (Toy Park)

Decotchi

Male
No
Majokkotchi

Female
No
Gallery
Community content is available under
CC-BY-SA
unless otherwise noted.