Marotchi
(まろっち)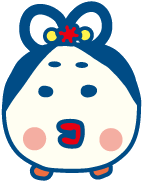 Genders and Releases:
Sprites:

Marotchi (まろっち Marotchi) is a female character who appears on the Tamagotchi Connection Version 4, the Chou Jinsei Enjoi Tamagotchi Plus, the Tamagotchi School, the Tamagotchi Music Star, and the TamaTown Tama-Go. She usually evolves from a female teen who has recieved bad care.
Appearance
Marotchi is round and white, wears red lipstick, and has black hair done up with a clip.
Personality
She loves learning about Japanese history and quizzing others. She says, "Ask me anything about history! I'll know the answer!". In Tamagotchi Corner Shop 3, Maidtchi mentions that Marotchi really wants to visit the Japanese city of Kyoto.
Name Origin
Maro is a Japanese word used to describe someone with small or shaved eyebrows. However, it can also mean "round".
Other Forms
Young Ura Marotchi (ウラやんぐまろっち Ura Yangu Marotchi) is a younger ura version of Marotchi from the Ura Jinsei Enjoy Tamagotchi Plus/Tamagotchi Connection Version 4.5. She dreams a lot about ancient Japanese times, and wears her bangs short to show off her eyebrows.
Gallery
Community content is available under
CC-BY-SA
unless otherwise noted.