Marotchi
(まろっち)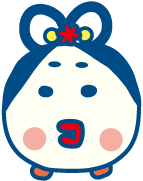 Genders and Releases:
Sprites:

Marotchi (まろっち Marotchi) is a female character who appears on the Tamagotchi Connection Version 4, the Chou Jinsei Enjoi Tamagotchi Plus, the Tamagotchi School, the Tamagotchi Music Star, and the TamaTown Tama-Go. She usually evolves from a female teen who has received bad care.
Appearance
Marotchi looks like the head of a Hina doll, and somewhat like an Okame mask. She is round and white with orange feet, but no arms or body. She has small eyes, tiny eyebrows, red lips, and pink cheeks. She has black hair tied up in two loops by a hair ornament made of yellow beads and a red flower.
Personality
Marotchi has a refined, old-fashioned personality. She is very meticulous when applying her lipstick. She loves learning about Japanese history and quizzing others. She says, "Ask me anything about history! I'll know the answer!".
In Tamagotchi Corner Shop 3, Maidtchi mentions that Marotchi really wants to visit the Japanese city of Kyoto. This is also stated in her character profiles in guidebooks.
On Virtual Pets
Chou Jinsei Enjoi Tamagotchi Plus/Tamagotchi Connection Version 4
Marotchi is part of the Mame Group. She can evolve from Ringotchi or Young Mimitchi if the kindness skill points are the highest.
Tamagotchi Plus Color
Marotchi is the worst care female adult on odd-numbered generations.
Tamatown Tama-Go
Marotchi is a worst care female adult.
Name Origin
Maro is a Japanese word used to describe someone with small or shaved eyebrows. It can also just mean "round".
Other Forms
Young Ura Marotchi (ウラやんぐまろっち Ura Yangu Marotchi) is a younger Ura version of Marotchi from the Ura Jinsei Enjoy Tamagotchi Plus/Tamagotchi Connection Version 4.5. She dreams a lot about ancient Japanese times, and wears her bangs short to show off her eyebrows.
Gallery
Community content is available under
CC-BY-SA
unless otherwise noted.