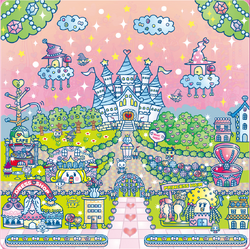 Princess Palace (プリンセスパレス) is a location located inside the Magical Flying Library Ship.
Appearance
The location is themed after princess fashion with many of the shops themed after dresses, jewelry, tiaras, and salons. The trees, clouds, and flower beds are adorned with various jewels and pearls. There is a fancy palace in the center of the location where many royal balls are held.
On Virtual Pets
Tamagotchi Meets
Princess Palace is a location on the Tamagotchi Meets exclusive to the Fantasy version. It is unlocked from the second generation onward by using the Pumpkin Lantern item, which is gifted to the user's Tamagotchi by the Queen of Hearts in Wonder Garden, after using the Card Paint option. The tamagotchi will carry the lantern outside where Witchi will use her magic wand to turn it into a carriage. They will then ride the carriage into a storybook and end up in Princess Palace.
Unlocking the location also unlocks the Princess Palace icon theme.
Activities
Royal Square
Exclusive residents can be talked to and played with here. If the residents are the mother or father of the user's tamagotchi they will not appear. If Mametchi or Lovelitchi are currently being raised their variants will not appear.
Princess Store
Otogitchi runs the shop here. They sell souvenirs exclusive to Princess Palace and also the standard items and accessories from the Tourcontchi chain stores.
Meals:
PUMPKIN BREAD - 180G
SUPPER DINNER - 280G
CARRIAGE SOUP - 150G
Snacks:
WHITE PARFAIT - 280G
DRESS CAKE - 240G
JEWEL JELLY - 200G
Items:
MAGIC STICK - 1200G
PRINCESS SHOES - 2000G
Accessories:
PRINCESS TIARA - 1000G
DIAMOND NECKLACE - 1200G
Ball
Witchi will invite the tamagotchi into the palace where they'll dance with one of the residents in a short animation. If they visit the Ball after 7 PM, Jewelboxtchi will appear at the end and gift them the Jewel Box item which is needed to unlock the Arabian Night location.
Propose
The tamagotchi can propose to a resident if they have a ring.
Residents
Name
Artwork
Sprite
Gender
Marry
Favorite Items
Prince Mametchi

Male
Yes
Loveli Princess

Female
Yes
Tuturinatchi

(at Tama Sport Plaza in other versions)

Female
Yes

Tennis Racket (Tama Sport Plaza)
Vanity Table (Salon)
Fortune-telling Mirror (Magic Land)
Coin Pouch

Witchi

Female
No
Jewelboxtchi

Female
No
Gallery
Community content is available under
CC-BY-SA
unless otherwise noted.