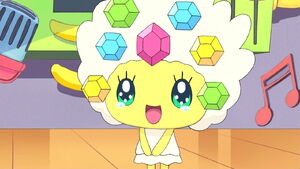 Queen of Tears vs. Yume Kira Comedians (涙の女王VSゆめキラ漫才師! Namida no joō VS yume kira manzaishi!) is episode 9 of Tamagotchi! Yume Kira Dream and episode 152 overall. It aired on November 12, 2012. The creator of the episode is Oohashi Yukiyoshi.
Plot
The students in dance class go to act in a crying scene. One girl in class is the only one who can do it, but suddenly she couldn't make herself cry anymore.
Cast
Main
Secondary
Trivia
In one scene of the episode, Himespetchi imagines she's on a boat with Mametchi, with the two of them on the front of the boat, the latter holding the former with her arms outstretched. This is a reference to a famous scene in the 1997 film Titanic.
Gallery
Main Article: Tamagotchi! Yume Kira Dream/Episode Gallery/Episode 9 (152)
Community content is available under
CC-BY-SA
unless otherwise noted.