This article is a stub!
You can help the Tamagotchi Wikia by expanding it.
Rie Kugimiya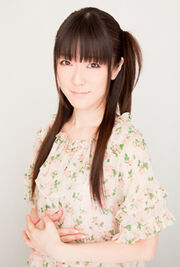 (
釘宮 理恵 / くぎみや りえ Kugimiya Rie
) is
Mametchi
's seiyū in all of the Tamagotchi anime releases from
Let's Go! Tamagotchi
to
GO-GO Tamagotchi!
, and the movies based off of the series. She also voices
Madonnatchi
.
Biography
She was born on May 30, 1979.
A selection of other roles played by Rie Kugimiya
and some may characters of she is played.
Trivia
Rie is well-known for voicing tsundere-type characters.
External Links