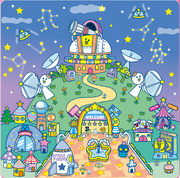 Starry Lab (ほしぞらラボ Hoshizora Rabo) is a location on Tamagotchi Planet.
Appearance
Starry Lab has all kinds of shops and attractions themed around outer space. It appeals greatly to tamagotchis who are interested in space, but many also consider the area to have a romantic quality to it, so it is a popular dating spot for tamagotchis.
On Virtual Pets
Starry Lab is available on most versions of the On except the Sanrio and Fantasy versions. From the 2nd generation, the background must be changed to the Starry Sky background and the tamagotchi must go the backyard past 7 PM. A bright flash of light will be seen coming from the backyard and the tamagotchi will see Cometchi who leads them to the Starry Lab.
Unlocking this location also unlocks the Constellation icon theme.
Activities
Park
Exclusive residents can be talked to and played with here. If either of the residents are the mother or father of the user's tamagotchi they will not appear.
Shop
Blue Tourcontchi runs the nameless shop here. It sells meals, snacks, items and accessory wearables as part of the Tourcontchi Chain. All standard items and accessories are sold at every Tourcontchi chain shop and at the Tama Depa Store.
Meals:
RICE STARS - 80G
SCOPE ROLL - 170G
STAR PASTA - 130G
Snacks
MOON CAKE - 100G
STAR CANDY - 110G
GALAXY BALL - 140G
Items:
NO G KIT (ZERO GRAVITY ROOM) - 1000G
STAR ROOM (PLANETARIUM) - 700G
Accessories:
STAR BAND - 800G
STAR RING - 1000G
Lookout
Hoshihakasetchi will invite the tamagotchi to look through the telescope where they will see one of these short animations:
The Earth winking at them.
Cometchi bumping into another planet and injuring them.
Blackholetchi sucking in an UFO and a larger UFO coming to rescue them.
Propose
The tamagotchi can propose to the exclusive residents if they have a ring.
Residents
Name
Artwork
Sprite
Gender
Marry
Favorite Items
Nanizatchi

Male
Yes

Binoculars (Tama Hotel)
Tennis Racket
Zero Gravity Room (Starry Lab)
Planetarium (Starry Lab)

Mochiusatchi

Female
Yes

Music Box
Coin Pouch
Flower Swing

Hoshihakasetchi

Male
No
N/A
Community content is available under
CC-BY-SA
unless otherwise noted.