This article is a stub!
You can help the Tamagotchi Wikia by expanding it.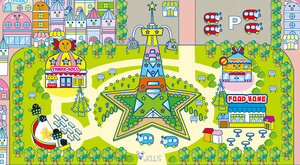 TAMAX-TV (たまっくす-ティーブィ Tamakkusu-Tībwi) is a television station located on Tama Street. It is also the place where Lovelitchi/Lovelin works, along with Gotchiman, Madonnatchi and Herotchi.
List of Tamagotchis Related to TAMAX-TV
Director
Director's Assistant
Behind the Scenes Crew
Performers
Newscasters
Other/Unknown Role
Gallery
Community content is available under
CC-BY-SA
unless otherwise noted.