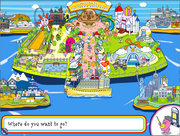 The Tama & Earth EXPO is a collection of islands located on Tamagotchi Planet. It was constructed as a means to help the Tamagotchis learn more about the Earth and the different human cultures. It was released on the Tamatown web site when the Tamagotchi Connection Version 5 was released.
Pavilions
The EXPO is divided into five islands, known as "Pavilions". There is one general Pavilion in the center for recreation, and the other four represent a different region of the world where Tamagotchi toys are released. This includes the USA, Japan, Asia/Oceania, and European regions.
Celebrity Cruise Ship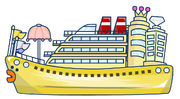 When the
Royal Dream Family Tamagotchi Plus
was released on Japan and the
Tamagotchi Connection Version 5 Celebrity
was released in the USA and Asia/Oceania regions, a cruise ship appeared docked in front of the main Pavilion. On board is the
Gotchi King
and his family, as well as several celebrity characters. The Cruise Ship included several additional games.
Community content is available under
CC-BY-SA
unless otherwise noted.