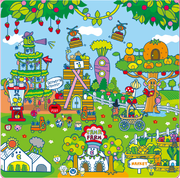 Tama Farm (たまファーム Tama Fāmu) is a location on Tamagotchi Planet that is accessed through the Tama Resort.
Appearance
Tama Farm is an area with a lot of tasty fruits and vegetables all year round. Many tamagotchis come here to grow and harvest crops. Many fruits and vegetables grown here are supplied to Food Town. Watatchi and Ringotchi help work on the farms.
On Virtual Pets
Tama Farm is a location available on most versions of the On except Pastel. It unlocks after visiting Food Town ten or more times. An apple will roll into the tamagotchi's home and it's revealed that the apple is from Ringotchi who's trying to organize crates of apples. After the tamagotchi helps them put the crates together, Ringotchi sends them to the Tama Farm in an apple shaped car.
Activities
Park
Exclusive residents can be talked to and played with here. If Watawatchi is currently being raised, or the other residents are the mother or father of the user's tamagotchi they will not appear.
Green Shop
Green Tourcontchi runs the nameless shop here. It sells meals, snacks, items and accessory wearables as part of the Tourcontchi Chain. All standard items and accessories are sold at every Tourcontchi chain shop and at the Tama Depa Store.
Meals:
VEGETABLE - 110G
CABBAGE - 120G
CURRY - 250G
Snacks:
PUNCH - 110G
(ICE CREAM) CONE - 200G

Changes tamagotchi's color to white if fed 5 times consecutively.

CREPE - 130G
Items:
GARDEN KIT (HOE) - 200G
PLANT TOOLS (VEGETABLE SEEDS) - 800G
Accessories:
STRAW HAT - 500G
FLOWER CROWN - 500G
My Farm
This is a space where the user's tamagotchi can plant and grow a tree. The tree takes four days to bear fruit, which includes durians, golden apples, and cherries. However, the tree's growth will only progress on days the user visits it. If the tree is not visited for a day, it will die and Ringotchi will tell the tamagotchi that they forgot to water it on their next visit. The tree will also disappear if the current tamagotchi marries, regardless of its growth stage. If it's diligently visited from early childhood, they will collect fruit on the first or second day of adulthood depending on time of hatching.
Propose
The tamagotchi can propose to a resident if they have a ring.
Residents
Name
Artwork
Sprite
Gender
Marry
Favorite Items
Violetchi

Female
Yes

Vegetable Seeds (Tama Farm)
Unicycle
Pastel Brush
Flower Cracker

Cherrytchi

Female
Yes

Hoe (Tama Farm)
Train Set (Toy Park)
Chick Nesting Doll
Magazine
Honey Pot

Watawatatchi

(at Tama Hotel in Pastel)

Female
Yes

Binoculars (Tama Hotel)
Tennis Racket
Zero Gravity Room
Planetarium (Starry Lab)

Youmotchi

Male
Yes

Suitcase
Vegetable Seeds (Tama Farm)
Canvas
Frisbee
Harmonica
Honey Pot

Hatakemotchi

Male
Yes

Hoe (Tama Farm)
Chick Nesting Doll

Ringotchi

Female
No
N/A
Watatchi

Female
No
N/A
Community content is available under
CC-BY-SA
unless otherwise noted.