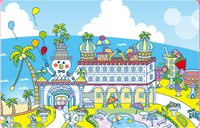 The Tama Resort Hotel (たまリソーとうホテル), or just Tama Hotel in Tamagotchi On, long name Tama Resort Island Hotel revealed by Sebastiantchi, is a location on the Tamagotchi Planet.
Description
Serving as the Tama Resort's sole hotel, the Hotel is huge. It is a white building with several blue and yellow spires, and the entrance has a rounded body and face. It has a swimming pool to the side of the entrance, as well as a fountain.
The hotel is managed by Sebastiantchi, who works for Kikitchi's family as well as being Kikitchi's butler, which suggests the resort and hotel are managed by Monsieur Kikipapa and Madame Kiki. Tourcontchi works in the hotel's gift shop and tourist information desk.
Unlocking
The Tama Resort Hotel is the first location unlocked in Tamagotchi On; when the first generation Tamagotchi reaches the child stage, attempting to travel to another place with the corresponding function will unlock it. The location is allegedly born from Tama Planet's dreams after you wake it up.
Residents
Red Shop
Tourcontchi runs the shop inside the hotel, and as a member/owner of the chain, sells exclusive Meals, Snacks, Items and Accessories.

This article is a stub!
You can help the Tamagotchi Wikia by expanding it.
Community content is available under
CC-BY-SA
unless otherwise noted.