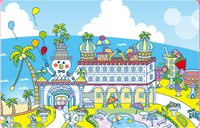 The Tama Resort Hotel (たまリソーとうホテル), or just Tama Hotel in Tamagotchi On, long name Tama Resort Island Hotel revealed by Sebastiantchi, is a location on the Tamagotchi Planet.
Appearance
Serving as the Tama Resort's sole hotel, the Hotel is huge. It is a white building with several blue and yellow spires, and the entrance has a rounded body and face. It has a swimming pool to the side of the entrance, as well as a fountain.
The hotel is managed by Sebastiantchi, who works for Kikitchi's family as well as being Kikitchi's butler, which suggests the resort and hotel are managed by Monsieur Kikipapa and Madame Kiki. Tourcontchi works in the hotel's gift shop and tourist information desk.
On Virtual Pets
The Tama Resort Hotel is the first location unlocked in all versions of the On when the first generation tamagotchi reaches the child stage. Attempting to travel to another place with the corresponding function will unlock it. The location is allegedly born from Tama Planet's dreams after you wake it up.
Activities
Garden
Exclusive residents can be talked to and played with here. If any of them are currently being raised, or are the mother or father of the user's tamagotchi they will not appear.
Red Shop
Red Tourcontchi runs the nameless shop here. It sells meals, snacks, items and accessory wearables as part of the Tourcontchi Chain. All standard items and accessories are sold at every Tourcontchi chain shop and at the Tama Depa Store.
Meals:
TAMA SUB - 150G
TAMA PLATE - 200G
EGG UDON - 180G
Snacks:
CHOCOLATE - 80G
DESSERTS - 90G
TEA - 100G
Items:
BINOCULARS - 100G
TRUNK - 600G
Accessories:
SUNGLASSES - 700G
LEI - 400G
Info
Tourcontchi runs the information desk and will give a random hint towards unlocking locations and changing the tamagotchi's color.
Propose
The tamagotchi can propose to a resident if they have a ring.
Leave
The user can leave their tamagotchi at the hotel where they will be taken of until 7 PM. However, it's recommended to pick the tamagotchi up before 7 PM as they will lose a lot of happiness points if not picked up by then. It costs 10 gotchi per hour during their stay, but if the user runs out of gotchi points to pay for the next hour the tamagotchi will be sent back home.
When the tamagotchi is left at the hotel, a resident from the area will hang out with them. They can be seen doing these things if player checks up on them:
Playing card games and pool
Having a meal while watching fireworks in the night sky
Surfing on the beach
Residents
Name
Artwork
Sprite
Gender
Marry
Favorite Items
Mametchi

Male
Yes

VR Set
Smartphone
Vegetable Seeds
Balloon
Frisbee
Magic Hat (Wonder Garden)
Planetarium (Starry Lab)

Kikitchi

Male
Yes
Nijifuwatchi

Female
Yes

Balloon
Fortune-telling Mirror
Flower Swing

Lovelitchi

Female
Yes

Vanity Table
Fortune-telling Mirror
Drawstring Purse
Potpurri

Sebastiantchi

N/A
Male
No
N/A
Watawatatchi

(Pastel Only)

Female
Yes

Binoculars (Tama Hotel)
Tennis Racket
Zero Gravity Room
Planetarium (Starry Lab)
Community content is available under
CC-BY-SA
unless otherwise noted.