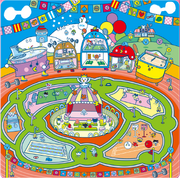 Tama Sport Plaza (たまスポプラザ Tamasupo Puraza), also known simply as "Gym" in Tamagotchi On, is a location on Tamagotchi Planet.
Appearance
Tama Sport Plaza hosts all kinds of sports events, from basketball, to soccer, volleyball, swimming, ice skating, and more. There is also a large stage in its center for performances.
On Virtual Pets
Tama Sports Plaza is available on all versions of the On except Sanrio. To unlock it, the tamagotchi must connect with tamagotchis from two other On/Meets/Ssome devices and then play with the ball item. The ball will turn into a soccer ball which the tamagotchi will kick into a soccer goal guarded by Shoototchi. Shoototchi will then lead the tamagotchi to Tama Sports Plaza.
Activities
Field
Exclusive residents can be talked to and played with here. If Pompomtchi, KuroMametchi, or Gozarutchi are being raised they will not appear. If either of the residents are the mother or father of the user's tamagotchi they will also not appear.
Shop
Light Blue Tourcontchi runs the nameless shop here. It sells meals, snacks, items and accessory wearables as part of the Tourcontchi Chain. All standard items and accessories are sold at every Tourcontchi chain shop and at the Tama Depa Store.
Meals:
BENTO BOX - 100G
RICE BALL - 120G
BREAD - 160G
Snacks:
LEMONS - 120G
POOL DRINK - 110G
TUTU CAKE - 60G
Items:
(TENNIS) RACKET - 1200G
TREADMILL - 500G
Accessories:
HEADBAND - 700G
BIB NUMBER - 900G
Contest
This is a short animation where the tamagotchi will either play tug of war or race a big ball to a finish line.
Propose
The tamagotchi can propose to the exclusive residents if they have a ring.
Residents
Name
Artwork
Sprite
Gender
Marry
Favorite Items
Tuturinatchi

(absent in Pastel/Fantasy)

Female
Yes

Tennis Racket (Tama Sports Plaza)
Vanity Table
Fortune-telling Mirror
Coin Pouch

Goggletchi

Male
Yes

Tennis Racket (Tama Sports Plaza)
Train Set (Toy Park)

KuroMametchi

(at Tama Hotel in Fantasy/Sanrio)

Male
Yes

Ball
Treadmill (Tama Sports Plaza)
Frisbee
Harmonica
Unicycle

Pompomtchi

Female
Yes

Tennis Racket (Tama Sports Plaza)
Magic Carpet
Unicycle
Flower Swing

Gozarutchi

Male
Yes

Soba Set (Food Town)
Hoe (Tama Farm)

Shoototchi

Male
No
Trivia
If the user has just two tamagotchi On devices they can still unlock the sports plaza. They just need to connect device A to device B and then reset the memory of device B so that it can count as a different On. Device B can then be connected again to device A to unlock the sports plaza for both devices.
Community content is available under
CC-BY-SA
unless otherwise noted.