Tamagotchi! (たまごっち!) is the first Tamagotchi animated series to air in Japan. It began airing in October 2009 in Japan, and ending in September 2012. Tamagotchi! aired 143 episodes and was followed by Tamagotchi! Yume Kira Dream.
A wide range of merchandise based on the anime was available in Japan at a TamaDepa.
An English dub consisting of 26 episodes was aired on 9Go! (formerly Go!) channel 99 on weekends at 5:30am in Australia in 2009. Currently, most of the voices from the English version are unknown. In late 2009, there apparently was supposed to be a similar English dub airing in the United Kingdom but unfortunately, this never happened.
A Tagalog dub on GMA also aired in the Philippines, and a Mandarin Chinese dub aired on YoYo TV. There are also two separate Cantonese Chinese dubs aired in Hong Kong, one on the channel ViuTV and one aired on TVB.
From July 7, 2014, a Korean dub is now airing on Champ TV and Anime Box. Both channels air Tamagotchi! every Tuesday.
At some point around 2017, two separate Thai dubs started airing, one on True Family Jump and the other on MCOT Family.
Plot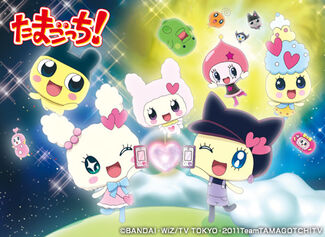 Season One
Following the events of Tamagotchi: Happiest Story in the Universe!, Mametchi, Memetchi, Kuchipatchi, and all other Tamagotchi Planet residents move on with their daily lives. However, a very famous Tamagotchi idol named Lovelin moves to Tamagotchi Town to host a footrace. The following day, at school, a shy, yet sweet new girl named Lovelitchi came to class. Little were her classmates aware that she was actually Lovelin. Poor experiences in prior schools caused Lovelitchi to decide to keep her Lovelin identity a secret when transferring to Tamagotchi School. After Mametchi told Lovelitchi he sees her as a Tama-Friend, she soon gets nervous due to the fact that Tama-Friends are never dishonest with each other. On Mametchi's birthday, Lovelitchi announced that she was, indeed, Lovelin. She feared that her newly-made friendships would come to an end, but everyone was quick to forgive her, and she was relieved.
Season Two/Three/Four
Daily life continued from that point until a legend about "The Kuchipatchi of Truth" was learned about by Mametchi, Memetchi, and Kuchipatchi. It caused a variety of shenanigans, included being teleported back in time and Lovelitchi's cell phone, Telelin, coming to life. Not long after the legend of The Kuchipatchi of Truth was discovered, an outgoing violinist named Melodytchi moves to Tamagotchi Town. Lovelitchi quickly became friends with her and they became an idol and violinist duet, performing many songs together. Not too long afterward, a bright and optimistic fashion designer named Moriritchi moves in and quickly became Tama-Friends with the cast, especially Lovelitchi and Melodytchi.
Season Five
Shortly after, a human girl named Tomomi arrives on Tamagotchi Planet following a malfunction from one of Mametchi's inventions. At that time, a new conflict unfolds; the legend of the Tama-Hearts. These mythical hearts were floating about on Tamagotchi Planet, and if they weren't found in time, Tamagotchi Planet would face a permanent curse. Mametchi created Tama Profy, devices that could store the Tama-Hearts shortly after they were uncovered, and gave them to Lovelitchi and Melodytchi. Every time a Tama-Heart was found, Lovelitchi and Melodytchi would take out their Tama Profy and store the Tama-Heart inside. At one time around that time, a mysterious Tamagotchi named Kizunatchi got out of the devices and offered to help with the search.
Season Six
Not long after, Tomomi leaves to return to the Earth and a new Tamagotchi girl with a massive crush on Mametchi, Himespetchi, arrives and agrees to help with the search.
Season Seven
With all the Tama-Hearts eventually found and stored in the Tama-Profies, citizens of Tamagotchi Town were soon turning into eggs. This was the beginning for what may be a permanent curse in Tamagotchi Planet, and if the Tama-Hearts weren't returned to their respective pillars on Heart Island in time, a rather unhappy ending is rest assured. Luckily, The Tamagotchis make it to Heart Island just before the curse gets any worse and manage to store the Tama-Hearts in their proper pillars. The sky then darkens, making them think something awful is bound to happen. Mametchi, Lovelitchi, Melodytchi, Memetchi, Kuchipatchi, and Himespetchi each made their hopes on the Tamagotchi Planet being Okay and the Egg curse to being stopped. Kizunatchi, only able to do so much to stop the curse, descended in a manner that saddened her Tama-Friends and made them run towards her, screaming her name. Kizunatchi soon changed appearance and ended the egg curse once and for all. Everyone was turned back to their regular selves and, after a tearful farewell to Kizunatchi, everything went back to normal.
Ms. Perfect called Mametchi, Memetchi, and Kuchipatchi, and announced that the three Tamagotchis have won the Robotic Soccer Tournament and that they would be transferring to Dream Town in light of their victory. The entire class was surprised, especially Mametchi, Memetchi, and Kuchipatchi. Makiko remarked that the three will need to leave Tamagotchi Town, making Himespetchi tear up in the thought that her love was leaving.
List of Episodes
Characters
Music
Opening Themes
Ending Credits
Songs by Lovelitchi/Lovelin and Melodytchi
Other Songs
Manga
Items
Gallery
Episode Gallery
External links