This anime series continues from anime Tamagotchi! episode 143.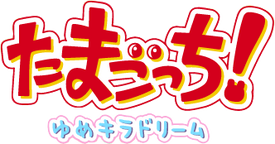 Tamagotchi! Yume Kira Dream
(
たまごっち! ゆめキラドリーム
Tamagotchi! Yume Kira Dorīmu
) is the continuation series of the anime
Tamagotchi!
. The series started on the 10th of September, 2012, a week after the first series,
Tamagotchi!
, ended on episode 143, 3 September 2012. The series is based on a new theme of following dreams, and focuses more on music. It is followed by
Tamagotchi! Miracle Friends
.
The series takes place in Dream Town with completely all new characters, including Yumemitchi, Kiraritchi, Pianitchi, and Coffretchi. A few of the original characters, Mametchi, Memetchi, Kuchipatchi, and the Spacy Brothers, repised their roles from the first series, while the rest of the main characters and other tamagotchi from the pervious series were abscent, minus one episode. Himespetchi was a main character until episode 35, in which she returned to her home planet.
New episodes aired on Thursdays at 6:30 PM in Tokyo.
The final episode of Yume Kira Dream is episode 192 of the anime series. It aired on August 23, 2013. The series has since been continued in Tamagotchi! Miracle Friends on September 5.
From November 23, 2013, Bandai dubbed short scenes from Tamagotchi! Yume Kira Dream into English and added them as webisodes to the Tamagotchi Friends web site.
Plot
Mametchi and his friends arrive to study abroad at Dream Town, a place that supports the dreams of all who live there. At Dream Town, Mametchi meets the aspiring idol singers Yumemitchi and Kiraritchi as well as many other new characters all following their own dreams. One day, Yumemitchi and Kiraritchi visit the circus where an old lady hands them mysterious bags with a secret.
Season One
Mametchi enrolls in Dream School, along with his friends Memetchi and Kuchipatchi. New characters, Yumemitchi and Kiraritchi, join with the present main cast. Later, another character is added, Yumecantchi. Also near the end of the season, new main character Pianitchi appears.
Season Two
Himespetchi leaves Tamagotchi Planet and she becomes replaced by Coffretchi, a new main character. At the end of the season, Yumemitchi and Kiraritchi master their Yume Kira Bags and Yumecantchi leaves. The girls soon depart Dream Town in order to accomplish their dreams of becoming idols.
Characters and Voice Cast
See also: List of Tamagotchi! anime characters
Episodes
Season 1
Episode #
Japanese Title & English Translation
Original airdate
01 (144)
登場!ゆめみっちとキラリっち Tōjō! Yumemitchi to Kiraritchi (Appearance! Yumemitchi and Kiraritchi)
10 September 2012
Mametchi and his friends arrive to study abroad at Dream Town, a place that supports the dreams of all who live there. At Dream Town, Mametchi meets the aspiring idol singer Yumemitchi, Kiraritchi and other new characters as they all follow their own dreams. One day, they visit the circus and an old lady hands them a mysterious bag with a secret.
02 (145)
え~!?アイドルに変身しちゃった!? Ē!? Aidoru ni henshin shi chatta!? (Eh!? We have transformed into idols!?)
17 September 2012
Classes have begun and everyone starts to settle in, but things aren't going well for Mametchi and one of his teachers. Yumemitchi and Kiraritchi have their own problems; between a dance class and a competition they'll try to use their Yume Kira Bags for the first time! Transforming into idols brings unexpected results.
03 (146)
ビックリ!ひめスぺっちもやってきた! Bikkuri! Himesupetchi mo yattekita! (Surprise! Himespetchi has arrived too!)
24 September 2012
One late night in Dream Town a space ship appears; Himespetchi has arrived! She joins Mametchi at Dream School in robot class, hoping to be close to him. Later, Yumemitchi finds Mametchi's Dorikawa Card and returns it to him which leads to a tour of Dream Town; Himespetchi sees Mametchi with other girls and it makes her upset enough to faint. Yumemitchi and Kiraritchi will find a way to use their Yume Kira Bags to help their new friend.
04 (147)
ピンチを救え!ゆめキラバッグ! Pinchi o sukue! Yume kira baggu! (Save the pinch! Yume Kira Bag!)
8 October 2012

Mametchi is still trying to befriend Ikaritchi but he isn't interested. Later at Dream School the robot class is given an assignment to create a robot that can serve tea, Mametchi is busy working on his project when things take a turn for the worst; Ikaritchi's prized tool becomes lost and he blames Mametchi. Yumemitchi and Kiraritchi help reveal the truth behind the robbery.

05 (148)
算数克服?ゆめキラパティシエ Sansūkokufuku? Yume kira patishie (Overcoming Math? Yume Kira pâtissière)
15 October 2012
At Dream School a math test is given out and naturally Mametchi does very well, however, a few others are concerned about their grades. Mametchi can help everyone out at a study group, but after a few minutes they quickly lose interest on the subject. Especially Naitotchi, who thinks he doesn't need math at all. Yumemitchi and Kiraritchi will get everyone's attention back by becoming pâtissiers and showing them that math can be used anywhere.
06 (149)
キラリっちの妹は暴走アーティスト!? Kiraritchi no imōto wa bōsō ātisuto! ? (Kiraritchi's little sister is a runaway artist!?)
22 October 2012
While Mametchi, Memetchi and Kuchipatchi are touring Dream Town Kuchipatchi stumbles upon a young artist. She suddenly bursts out yelling and scribbling all over, even on Kuchipatchi! She takes him to clean up at Kirakira Tamamori; which is run by Kiramamatchi her mother. Mametchi and his friends find out she is Kiramotchi, Kiraritchi's little sister. Yumemitchi and Kiraritchi will transform into violinists to try and calm her down.
07 (150)
愛は爆発!情熱の求愛ダンス Ai wa bakuhatsu! Jōnetsu no kyūai dansu (Love Explosion! Courtship dance of passion)
29 October 2012
On the way home Mametchi and his friends see Toropikatchi sitting by herself sighing, she seems to have love troubles. Toropikatchi likes a peacock called "Jack" but she says there is not a meaning to their love anymore and gets depressed. Memetchi and Himespetchi say that they'll help her love grow. Her friends will carry out a plan to approach him.
08 (151)
くちぱっちの中華まん真剣勝負 Kuchipatchi no chūkaman shinken shōbu (Kuchipatchi's Chūkaman hardball)
5 November 2012

Mametchi and his friends visit Dream Hanten, Kuchipatchi's home-stay place. He treats everybody to his favorite Chinese steamed buns (Chukaman) and he talks a lot about how delicious it is. At cooking class Kuchipatchi and his classmates are given an assignment, they must make their own original Chukaman in a week's time, he is very excited. But Karakutchi has a defiant attitude towards him for some reason.

09 (152)
涙の女王vsゆめキラ漫才師 Namida no joō vs Yume Kira manzai-shi (Queen of tears vs Yume Kira Comedians)
12 November 2012

In dance class Yumemitchi and Kiraritchi need to act out crying scene. No one can do it except Jurietchi, who can cry on the spot. Suddenly Jurietchi can't make tears! With the help of the Yume Kira Bags Yumemitchi and Kiraritchi try a comical approach to the problem. Is there another way to bring tears to her eyes?

10 (153)
たまとも再会!たまごっちタウンに里帰り Tamatomo saikai! Tamagotchi Taun ni satogaeri (Tamatomo reunion! Coming home to Tamagotchi Town)
19 November 2012

Mametchi, Memetchi, Kuchipatchi and Himespetchi are returning to Tamatown after they are given a dream holiday break from school. Mametchi is excited to reunite with his family after being gone so long; he also has a reunion with his Tama-Friends at Tamagotchi School. There's a surprise involving Lovelitchi and Melodytchi.

11 (154)
ゆめキラ感動!D2に急接近!! Yumekira kandou! D2 ni kyusekkin (Yume Kira impression! D2 are fast approaching!!)
26 November 2012

Yumemitchi and Kiraritchi are in charge of Kirakira Tamamori while Kiramamatchi is away. Two visitors come in who are very familiar... Dance class goes to a D2 photo shoot; while robot class is tinkering with a supersized monster robot. When the monster goes on a rampage; only baseball can stop it?

12 (155)
イケメンパティシエのスイーツな苦悩 Ikemen patishie no suītsu na kunō (Ikemen pâtissier's sweet distress)
3 December 2012

During cooking class everyone is decorating sweets; Patitchi is trying very hard but still hasn't got it quite right. While out in Dream Town she runs into Cafe Mama, and they both run into a fainted Wagashietchi. Something is troubling him, and Patitchi will find out. Can Mametchi and his friends find a way to help her cheer Wagashietchi up?

13 (156)
超プリティ!No.1たまペット決定戦! Chō puriti! Nanbā 1 tama petto kettei-sen! (Super pretty! No.1 Tamapet competition)
10 December 2012

Doyatchi and Charatchi are arguing about who has the better TamaPet. The gang decides to set up a contest at the Music Café to see who really has the #1 TamaPet!

14 (157)
想いよとどけ!クリスマスバスケット Omoi yo todoke!Kurisumasubasuketto! (Feelings reach! Christmas Basket)
17 December 2012

The gang are making Christmas baskets on the week before Christmas. Mametchi, in a desperate act to impress Ikaritchi starts spying on him and writing down notes to see what he would like.. But does it go as planned?

15 (158)
クリスマスキャン!ふわふわゆめキャンっち Kurisumasukyan! Fuwafuwa Yumekyantchi (Christmas-kyan! Fluffy Yumecantchi)
24 December 2012

Christmas comes near in Dream Town, but it is reported that Santaclautchi's Deertchi is missing in action! Yumemitchi and Kiraritchi encountered the missing Deertchi, but it seemed troubled.

16 (159)
めざせサーカスデビュー!転校生まじょっこっち Mezase sākasu debyū! Tenkōsei Majiyokkotchi (Aim for Circus Debut! Transfer Student Majokkotchi)
7 January 2013

A new student comes to Dream School.

17 (160)
まいごをさがせ!ドリームタウン大追跡! Maigo wo Sagase! Dorīmu Taun Daitsuiseki (The Search for the Stray! Dream Town Pursuit!)
14 January 2013

Insert description here

18 (161)
笑いと涙と友情のサーカスデビュー! Warai to Namida to Yuujou no Sākasu Debyū! (Circus Debut of Friendship, Laughter, and Tears!)
21 January 2013

Insert description here

19 (162)
真剣勝負! お茶くみロボット大作戦! Shinken Shōbu! Ocha-kumi Robotto Dai Sakusen! (Fight Truly! Robot Battles of Tea Set!)
28 January 2013

Insert description here

20 (163)
ひとりぼっちのまめっち Hitoribotchi no Mametchi (Lonely Mametchi)
4 February 2013

Mametchi feels like he's imposing too much on everyone and runs away from Ikaritchi after they become angry at each other.

21 (164)
ポロロン♪ ピアニっちがやってきた Pororon♪Pianitchi ga Yattekita! (Pororon ♪ Pianitchi's Arrival!)
11 February 2013

A girl named Pianitchi comes to Dream Town.

22 (165)
いかりっちの真実 Ikaritchi no Shinjitsu (Ikaritchi's Truth)
18 February 2013

Mametchi and friends soon find out the truth about Ikaritchi's past and why he's soon cold and cruel.

23 (166)
アテンションプリーズ! スクール脱出大作戦 Atenshon Purīzu! Sukūru Dasshutsu Dai Sakusen (Attention Please! School Battle of the Escape)
25 February 2013

The School gets an alarm attack and trap some of the people in the school.

24 (167)
みつけて!たまぐるみカーニバル! Mitsukete! Tama-gurumi Kanibaru! (Let's Discover! Tama Costume Festival!)
4 March 2013

The gang get ready a costume festival, and during it go to a Dream5 concert.

25 (168)
ハッピーバースディ! どーするプレゼント!? Happībāsudi! Dosuru purezento!? (Happy Birthday! Gift to Use!?!)
11 March 2013

Pianitchi and her friends get ready for Café Mama's birthday. Pianitchi, Yumemitchi, Kiraritchi, Memetchi, and Himespetchi try to make a band to surprise Café Mama, but their first attempts fail.

26 (169)
うちは刻むよ! 魂のビート Uchi wa Kizamu yo! Tamashī no Bīto (I'll Carve Out! Beat of the Soul)
18 March 2013

Everyone travels to Melody Land to meet Pianitchi's father and meet a friend of hers that teach Himespetchi to play drums.

27 (170)
よみがえれ虹の輝き!女王様のピアノ Yomigaere niji no kagayaki! Joō-sama no piano (Radiance of the Rainbow Restored! Joou Sama's Piano)
25 March 2013

Joou Sama will be performing live with her special rainbow piano. However, it stopped working. Papapianitchi, Mametchi, and the others try to fix it before time runs out.
Season 2
Episode #
Japanese Title & English Translation
Original airdate
28 (171)
巨大怪獣現る!? ガレージを取り戻せ! Kyodai kaijū genru!? Garēji o torimodose! (A Huge Monster!? Reclaim the Garage!)
4 April 2013

The girls are looking for a place to practice, but when they go to Ikaritchi's garage, they make a terrifying discovery! Is it really a monster or does it just need their help?

29 (172)
守れ! たまごっち星のトップシークレット!? Mamore! Tamagotchi-Boshi no Toppu Shīkuretto!? (Protect! Top Secret of Planet Tamagotchi!?)
11 April 2013

The boys form a band and need a place to practice.

30 (173)
ゆめキラ漫画家デビュー!! Yumekira Mangakka Debyū!! (Yume Kira Manga Artist Debut!!)
18 April 2013

Yumemitchi and Kiraritchi start the beginning of a day as manga artist.

31 (174)
大激戦! スイーツコンテストは甘くない!? Dai Gekisen! Suītsu Kontesuto ha Amakunai!? (Great Fierce Battle! Sweets Contest of Bitterness!?)
25 April 2013

Wagassiertchi is hosting a sweets contest! Patitchi, Kuchipatchi, Crepetchi, Amakutchi, and Spaceytchi all enter. They each start preparing their dishes, but as Patitchi starts decorating, trouble strikes! Can Yumemitchi and Kiraritchi save the cake and the day?

32 (175)
スゴイ強敵! チョコレートの女王 Sugoi Kyōteki! Chokorēto no Jo'ō (A Great Nemesis! The Queen of Chocolates)
2 May 2013

Wagassiertchi and Patitchi need to save their resturaunt.

33 (176)
タイムカプセルは初恋の思い出!? Taimu kapuseru wa hatsukoi no omoide!? (Memories of Love in a Time Capsule!?)
9 May 2013

The gang find out that Pianitchi has a time capsule that she buried with a childhood friend.

34 (177)
言えない! ひめスペっちの秘密 Ienai! Himesupetchi no himitsu (Don't say it! Himespetchi's Secret)
16 May 2013

A music concert is coming and a prize is for winners of the band. Everyone is excited to participate, but Himespetchi loses her excitement and all happiness when her family ask her to come home.

35 (178)
ひめスペっち、また明日 Himesupetchi, mata ashita (We'll meet again, Himespetchi))
23 May 2013

Himespetchi's time in Dream Town and on Tamagotchi Planet has finally come to an end and gets ready to spend her last moments with her friends as well as a special time with Mametchi.

36 (179)
メイクは愛~♪ 転校生はコフレっち~♪ Meiku wa ai ~♪ Tenkōsei wa Kofuretchi~♪ (Makeup of Love~♪ The Transfer Student, Coffretchi~♪)
30 May 2013

Being short of one member, the Kira Kira Girls were still at loss after Himespetchi left Tama Planet. However the next day, they all met a new transfer student named Coffretchi, whose parents opened up a shop where Himespetchi once lived. But is she the one who can complete their band?

37 (180)
たまローズはキケンな香り Tama rōzu wa kiken'na kaori (The dangerous scent of the Tama Rose)
6 June 2013

Coffretchi takes her new friends to YUMEX-TV, where she now works at. When the get there, Coffretchi takes them on a tour of the building, and Mametchi and his friends see many of their favorite idols there. Then, they find out that Benitchi is sneezing stangely. And then, everybody goes on a search to find out what is causing Benitchi's allergic reaction.

38 (181)
愛しのエンジェルと合同授業!? Itoshino Enjeru to gōdō jugyō!? (A Joint Class With the Angel of Love!?)
13 June 2013

Insert description here

39 (182)
密着取材! キラキラガールズ Mitchaku shuzai! Kirakiragāruzu (Exclusive Coverage! Kira Kira Girls)
20 June 2013

Insert description here

40 (183)
スクープ! Cさんに浮気疑惑!? Sukūpu! C-san ni uwaki giwaku!? (Scoop! The Allegations of Mr.C!?)
27 June 2013

Insert description here

41 (184)
大迷宮! ゆめみっちプリンセスハウス!! Dai meikyū! Yumemitchi purinsesu hausu!! (Big Labyrinth! Yumemitchi's Princess House!!)
4 July 2013

Insert description here

42 (185)
おばけもノリノリ? サマービーチライブ! Obake mo norinori? Samā bīchi raibu! (High Spirited Ghosts? Summer Beach Live!)
11 July 2013

Insert description here

43 (186)
氷と対決? ロボット科のあつい戦い! Kōri to taiketsu? Robotto-ka no atsui tatakai! (Icy Confrontation? The Battle with the Fiery Robot Family!)
18 July 2013

Insert description here

44 (187)
勇気を出して… 発進! 告白ロボ Yūki wo dashite… hasshin! Kokuhaku robo (Have Courage... Sortie! Confession Robot)
25 July 2013

Insert description here

45 (188)
たぁ〜のしぃ〜い♥ ゆめキラ変身絶好調★ Taa~noshi~ii♥ yume kira henshin zekkōchō ★ (That~was~fun♥ YumeKira Top Makeover Transformation★)
1 August 2013

Insert description here

46 (189)
つきとめるでち! 二人組の秘密!! Tsukitomerude chi! Futarigumi no himitsu!! (It's been revealed! The duo's secret!!)
8 August 2013

Insert description here

47 (190)
ありがとう! ゆめキラバッグ…プラスワン Arigatō! Yume kirabaggu… purasu wan (Thank You! Yume Kira Bag...Plus One)
15 August 2013

Insert description here

48 (191)
夢にむかって心キラキラ! Yume ni mukatte kokoro kirakira! (Toward the Dream with a Sparkling Heart!)
22 August 2013

Yumemitchi and Kiraritchi finally get their chance to fulfill their dreams for real.

49 (192)
愛しのMさんにレッツ告白! Itoshino M-san ni rettsu kokuhaku! (Let's Confess to Dear M-San!)
29 August 2013

The gang figure out who is Comb-bowie Sensei's love interest.
Music
Opening Credits
Song title
Episodes song aired
Watch Japanese version
Watch English version
Watch Tagalog version
Watch Chinese version
Singer
Chorus
Publisher
JP: ドレミファソライロ
Episode 1 - Episode 27
Youtube
Unavailable
Unavailable
Unavailable
JP: Dream5
 
avex trax
JP: ロックン・ハート!
Episode 28+
Youtube (Subbed)
Unavailable
Unavailable
Unavailable
JP:Misato Fukuen, Megumi Toyoguchi
 
Ending Credits
Song title
Episodes song aired
Watch Japanese version
Watch English version
Watch Tagalog version
Watch Chinese version
Singer
Chorus
Publisher
JP: きっとずっとHappy!
Episode 1 - Episode 27
Youtube
Unavailable
Unavailable
Unavailable
JP: Dream5
 
avex trax
JP: パワフル・ビート!
Episode 28+
Youtube
Unavailable
Unavailable
Unavailable
JP: Rie Kugimiya
 
Other Songs
Items
Gallery
Videos
Episode Gallery
Trivia
Yume Kira (

ゆめ キラ

) translates to Shiny Dream. "Yume", short for "yumemi", and "Kira", short for "kira kira", most likely stand for Yumemitchi and Kiraritchi.
Some of the characters and places that are replaced are