The Tamagotchi Connection Version 4.5, also known as the Tamagotchi Connection Jinsei Plus, is the fifth Tamagotchi Connection release.
Considered the North American equivalent of the Ura Jinsei Enjoy Tamagotchi Plus, the V4.5 does have differences. It features characters from the Tamagotchi Connection Version 2 and Tamagotchi Connection Version 3. The Bikkuri Group characters are removed and it instead features the universal group, which includes the non-Ura characters.
Features
The V4.5 includes the same features used before on the Tamagotchi Connection Version 4, although many jobs and all of the games are different.[1] New items and souvenirs are also available. This Tamagotchi includes many characters from the Uratama.
Skill Points
The V4.5 has new skill points, which include the following categories[2]:
Funny: Smiley face icon (replacing Intelligence pencil)
Gorgeous: Star/sparkle icon (replacing Fashion sparkle)
Spiritual: Fist icon (replacing Kindness flower)
Tamagotchi can earn skill points by playing games. Each game offers different skill points.
| Game | Skill |
| --- | --- |
| Climb | random |
| Tug-o-war | random |
| Apple | Funny |
| Manhole | Spiritual |
| Shapes | Gorgeous |
Codes
You may enter shop codes by visiting the Shop. Press the A button rapidly for 4 times until the shopkeeper makes a surprised face.
Type the shop code using the left (A) button, middle (B) button, and right (C) button.
| Item | Shop Code | Cost (points) |
| --- | --- | --- |
| CD3 | CCCA CBBC | 0 |
| Steak | BABC BAAA | 1400 |
| Love Potion | BBAA ABCB | 7000 |
| Clone | CAAC BBCB | 14000 |
| Pen | BCAA CBAB | 15000 |
If the player were to input all 5 passwords, the last item they obtained would be replaced by a Cell Phone item. Inputting the passwords again would make the item available for purchase.
Note: The first time a code is entered, it is free, but after that they must be purchased.
PC Pack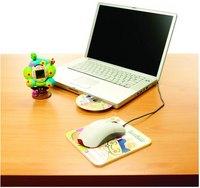 A special PC Pack was released in the USA (and Australia on October 31, 2007), which includes a tree-shaped microphone that doubles as a Tamagotchi cradle, a CD ROM, a mousepad, and an exclusive V4.5 designed to represent a globe. When the CD ROM is installed, the player may use the tree microphone to interact with an on-screen Tamagotchi, or play a variety of games that rely on the user's voice. Several wallpapers, coloring activities, and screensavers are included as well.
Characters
See Tamagotchi Connection Version 4.5 Character List
Gallery
Commercials
References
↑

"Tamagotchi v4.5 Instructions" (2007) Asst. #19600. Bandai
Community content is available under
CC-BY-SA
unless otherwise noted.