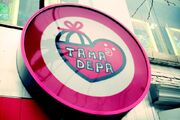 Tamagotchi's Department Store, commonly shortened to TamaDepa (たまデパ), is a small department store themed around Tamagotchi. The most well-known TamaDepa is located in Tokyo, in the Harajuku district, although it was originally located in Tokyo dome. There is also a TamaDepa located in Tokyo station's underground "character district" later renamed "Tamagotchi store Tokyo" in late 2013.
TamaDepas are also commonly shown in the virtual pets themselves. In Tamagotchi media, Depagatchi often appears in TamaDepa stores.
The Harajuku Tamadepa originally had a doughnut shop containing eight doughnut flavors, drinks, and ice cream, and had a Kuchipatchi of Truth outside the store. Currently the main Harajuku Tamadepa moved and is merged with the fashion brand CIAO, making the Tamadepa half of its original size and located underneath the CIAO store.
In the Anime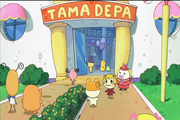 In the anime series, there are multiple TamaDepa stores. Rather than containing Tamagotchi related products, they merely function as everyday department stores for the Tamagotchi population.
Tamagotchi: The Movie
A TamaDepa is briefly shown in the feature film Tamagotchi The Movie, when Tanpopo is touring Tamagotchi Town with Mametchi, Memetchi, and Kuchipatchi.
Let's Go! Tamagotchi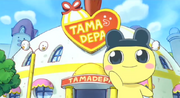 A TamaDepa store appeared in episode 11 of Let's Go! Tamagotchi, when Ms. Perfect's class visits the store to get a present for her.
Tamagotchi! series
In Tamagotchi! and Tamagotchi! Yume Kira Dreams, there are TamaDepas located in three parts of Tamagotchi Planet. The first is the original TamaDepa that appeared in Let's Go! Tamagotchi; it is located opposite Tamagotchi School and has a dome shape. The second TamaDepa is located on Tama Street, and has a more square-like appearance. The third is in Dream Town and has a giant Tamamori decoration attached to it.
On Virtual Pets
A TamaDepa store is featured as a visitable location.

There is a TamaDepa store in My Town where the user's tamagotchi lives. Depagatchi works there and will greet the tamagotchi and bring items they've chosen to buy. From the store menu, the user has the option to go shopping or go to the Tamagotchi Game Center. The store is the only location to buy rooms and jewelry. It generally carries the same stock in all versions, but there may be a few items exclusive to a version of the On. The general stock is also sold at all Tourcontchi chain stores at Tama Resort Island.
Rooms:
NORMAL ROOM - FREE
WORKOUT ROOM - 1500G
STAR ROOM - 1500G
SALON - 2000G
ALICE PICNIC - 1300 (Fantasy & Wonder Garden)
FANTASY ROOM - 1500 (Fantasy & Wonder Garden)
Items:
SCOOTER - 200G
VR SET - 800G
HARMONICA - 800G
ART CANVAS - 800G
UNICYCLE - 1700G
FLYING DISC - 1200G
COIN PURSE - 800G
Accessories:
BOOKSHELF HAT - 700G (Fantasy & Wonder Garden)
FEATHER PEN - 500G (Fantasy & Wonder Garden)
BOW - 1000G
SMALL DRUM - 400G
SWIRLY EYES - 600G
HEADPHONE - 800G
Jewelry
HEART RING - 500G
GEM RING - 5000G

Higher chance of a successful proposal
Gallery
Physical Store
Virtual Pets
Anime
Trivia
The TamaDepa was first opened in the Tokyo dome and was massive in size, hence it was called a department store. However, due to it's lack of customers, it was moved to Harajuku.
Up until late 2012, the Tamagotchi anime depicted animated versions of each of the stores, for example, the TamaDepa in Let's Go! Tamagotchi was based off of the TamaDepa in the Tokyo dome.
Community content is available under
CC-BY-SA
unless otherwise noted.