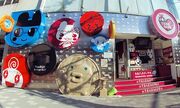 Tamagotchi's Department Store, commonly shortened to TamaDepa (たまデパ), is a small department store themed around Tamagotchi. The most well-known TamaDepa is located in Tokyo, in the Harajuku district, although it was originally located in Tokyo dome. There is also a TamaDepa located in Tokyo station's underground "character district" later renamed "Tamagotchi store Tokyo" in late 2013.
TamaDepas are also commonly shown in the virtual pets themselves. In Tamagotchi media,
Depagatchi
often appears in TamaDepa stores.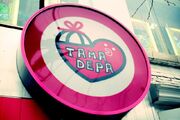 The Harajuku Tamadepa originally had a doughnut shop containing eight doughnut flavors, drinks, and ice cream, and had a Kuchipatchi of Truth outside the store. Currently the main Harajuku Tamadepa moved and is merged with the fashion brand CIAO, making the Tamadepa half of its original size and located underneath the CIAO store.
In the Anime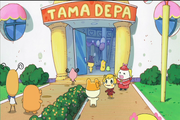 In the anime series, there are multiple TamaDepa stores. Rather than containing Tamagotchi related products, they merely function as everyday department stores for the Tamagotchi population.
Tamagotchi: The Movie
A TamaDepa is briefly shown in the feature film Tamagotchi The Movie, when Tanpopo is touring Tamagotchi Town with Mametchi, Memetchi, and Kuchipatchi.
Let's Go! Tamagotchi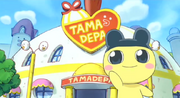 A TamaDepa store appeared in episode 11 of Let's Go! Tamagotchi, when Ms. Perfect's class visits the store to get a present for her.
Tamagotchi! series
In Tamagotchi! and Tamagotchi! Yume Kira Dreams, there are TamaDepas located in three parts of Tamagotchi Planet. The first is the original TamaDepa that appeared in Let's Go! Tamagotchi; it is located opposite Tamagotchi School and has a dome shape. The second TamaDepa is located on Tama Street, and has a more square-like appearance. The third is in Dream Town and has a giant Tamamori decoration attached to it.
On Virtual Pets
Tamagotchi Plus Color
A TamaDepa store is featured as a visitable location.
Trivia
The TamaDepa was first opened in the Tokyo dome and was massive in size, hence it was called a department store. However, due to it's lack of customers, it was moved to Harajuku.
Up until late 2012, the Tamagotchi anime depicted animated versions of each of the stores, for example, the TamaDepa in Let's Go! Tamagotchi was based off of the TamaDepa in the Tokyo dome.
Gallery
Community content is available under
CC-BY-SA
unless otherwise noted.