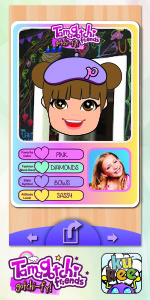 Tamagotchi Friends: Gotchi-fy!
is the name of the first app in the
Tamagotchi Friends
franchise and it can also interact with the upcoming clothing line. It's powered by KuKee, a free application that activates augmented reality on iOS devices.
Even though the original Tamagotchi Friends is by Bandai UK, Bandai America and Sync Beatz Entertainment (the company behind Tamagotchi L.i.f.e.) created the Tamagotchi Friends fashion line and Gotchi-fy app.
The app allows users to create avatars of themselves and customize them with accessories that are worn by the Tamagotchi Friends characters. Their avatar will appear on a virtual Dream School student ID card.
Users can unlock new accessories on the Gotchi-fy app by scanning unique markers imbedded in the Tamagotchi Friends apparel. There will also be a scannable marker on a collectible poster which will be inside packaging of other Tamagotchi Friends products, such as home decor and stationery.
The app and corresponding interactive clothing line will release in the United States and Canada later in 2014. It is unknown if it will release in other countries as well.
See also
External Links
Community content is available under
CC-BY-SA
unless otherwise noted.