The Tamagotchi Meets (たまごっちみーつ Tamagotchi Miitsu) is the latest series of color Tamagotchi pets, released on November 23, 2018. In June 2019, a Sanrio version has been rumoured to release.
Information/Features
The Tamagotchi Meets features similar gameplay to the Tamagotchi m!x in that several physical traits of both parents will be passed down to their offspring when they breed, in addition to a number of improvements:
The ability to raise twins, with each twin growing up to have unique physical features despite having the same genetics.
The return of Tama Pets and the ability to breed and m!x them with others to create what promotional material has described as over 1200 combinations.
As of early August 2018, 11 of the Tama Pets from old releases are confirmed to return.
The addition of Bluetooth functionality and reintroduction of IR to connect to not only other nearby Meets and Tamagotchi m!x devices, but also to tablets and smartphones via Bluetooth.
The introduction of a GPS to send gifts to other mobile and tablet devices.
Similar to its predecessor, the Meets will launch with two separate versions with different m!xable characters and exclusive locations: Fairytale (メルヘン märchen) and Magical (マジカル magical). Both varieties come in pink, while the Fairytale Meets also comes in blue and yellow and the Magical Meets in purple and green.
Characters
Main article: Tamagotchi Meets/Character list
Main article: Tamagotchi Meets/M!xable Characters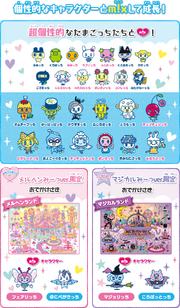 App
The Tamagotchi Meets App will be available on mobile OS systems on November 10th. The Meets will be able to connect to the app via bluetooth.
Tamagotchi Meets Station
The Meets will be compatible with an upcoming station. At the moment, it is uncertain if the new station will be an upgraded m!x or something completely new. Similarly, it is unknown if the new station will be backwards compatible with the m!x.
Similarly to the Dekatamas used throughout 2004 to 2007, the items and characters available from each Meets Station vary across different regions of Japan, in addition to the rosters changing with each season akin to the m!x Stations.
External Links
Gallery
Images
Videos