Tamagotchi iD (たまごっち アイディー Tamagotchi Aidī) or nicknamed "ID" is a version of the Tamagotchi color series, released in Japan in 2009. It has a clear plastic jewel-like face around the screen. While the original color-screened Tamagotchi model has a flat back, this version has a rounder back.
The Tamagotchi iD is well known for being the first Tamagotchi to have downloadable items, accessories and games via infrared from its own download site tama-id.com. There are also new destinations, guest characters, and options plus the ability to wear clothes and accessories, hence the name iD (identification or fashion).
This version is based on the anime series Tamagotchi!, except with the aim to raise and collect all the adult characters by having them become the player's Tama-Friends (たまとも Tamatomo).
Games
Gogo Slot
This is a slots game where the player has to match the character pictures in three tries.
Koretotte
In this game, players have to look for the item that matches the item shown above and catch it. If the player catches the wrong item, or misses it, the game ends.
Build a Burger
Players help Makdotchi make a burger on time. This game is downloadable
Rainbow Road
The player is driving on a rainbow road. They can successfully reach the end by avoiding the obstacles by moving up and down. This game, along with Build a Burger, is downloadable.
Characters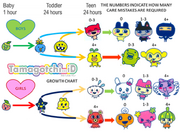 Main article: Tamagotchi iD/Character List
Other releases
Tamagotchi ID SPOT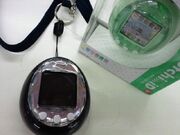 The Tamagotchi ID SPOT was a special black and silver version of the Tamagotchi ID, only available in toy stores across Japan working as a connection device to an ID when connected the owner's Tamagotchi will receive limited edition download items acting like a Tamagotchi Station. Being counted as an official Tamagotchi yet not purchasable it is one of the rarest Tamagotchis in existence.
Tamagotchi iD Lovely Melody ver.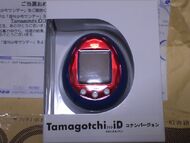 Tamagotchi iD Lovely Melody ver.
(
たまごっち アイディー ラブリーメロディーバージョン
Tamagotchi aidī raburī merodī bājon
) is the musical version of Tamagotchi iD. There isn't much different between the two versions of Tamagotchi iD. There are only a few changes on it. One of the new changes is that
Lovelin
(replacing Lovelitchi) and
Meloditchi
(who replaces Uwasatchi) are now raiseable. There are 2 new games; "Violin" and "Lovelin Cooking". There are 2 designs; Melody Crown and Lovely Music.
Tamagotchi iD Conan ver.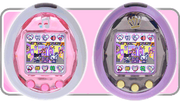 Tamagotchi iD Conan ver.
(
たまごっち iD コナン バージョン
) is a rare limited edition Tamagotchi iD that was given away with every subscriber issue of the Shōnen Sunday Manga Magazine, issue 3000th. They have a dark blue shell and red gem and are priced around $100 or more on Yahoo Auctions Japan.
This version has characters from the Detective Conan series which players can talk to in a new destination and Conan versions of the ID games which can also be download from Tama-id.com. Not much is known about this Tamagotchi. Also, because only a limited amount of them were ever made, and it is very hard to find, this version can be considered as one of the rarest Tamagotchi made along with the Tamagotchi SPOT series.
Gallery
Community content is available under
CC-BY-SA
unless otherwise noted.