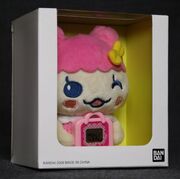 Tamagotchi no Fureai Furendo Chamametchi (ふれあいふれんど! おしゃべりちゃまめっち Fureai Furendo! Oshaberi Chamametchi) (or Tamagotchi no Fureai Furendo Oshaberi Chamametchi - "Tamagotchi's Touching Friend Talking Chamametchi") is a Tamagotchi device released on July 27th, 2008 in Japan only. This toy is a Chamametchi plush joined to her blue handbag (Limited Edition Pink) featuring a small LCD screen and three buttons.
Bandai Japan also released a short animation promoting the toy.
Story
Chamametchi was playing on Mametchi's rocket with a special handbag that Mametchi had made for her. She accidentally falls and hits the start button, making the rocket blast off before Mametchi can save her. The rocket lands on Earth and Chamametchi is all alone. She needs someone to find her and become her special friend.
Features
Users can interact with Chamametchi to increase their friendship with her. The friendship can progress through six stages, the final stage being best friends. Chamametchi will say different things during each stage, and she can say a total of 200 phrases.
There are two games, and Chamametchi can also read stories, get calls from her friends on Tamagotchi Planet, and play with items.
External Links
Community content is available under
CC-BY-SA
unless otherwise noted.