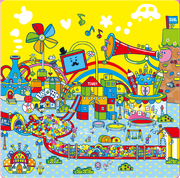 Toy Park (おもちゃパーク Omocha Pāku) is a location on Tamagotchi Planet.
Appearance
Toy Park is full of toys, games, and fun things to do. One of its main features is a giant ball pit with a slide leading into it. It also has other playground equipment, such as swings, trampolines, and a rock-climbing wall.
On Virtual Pets
Toy Park is available on all versions of the On. To unlock it, the user's tamagotchi (2nd generation onward) must wear the drum accessory and go out into the backyard. A teddy bear will then greet the tamagotchi and lead them to Toy Park as other toys follow them.
Locations
Park
Exclusive residents can be talked to and played with here. If either of the residents are the mother or father of the user's tamagotchi they will not appear.
Orange Shop
Orange Tourcontchi runs the nameless shop here. It sells meals, snacks, items and accessory wearables as part of the Tourcontchi Chain. All standard items and accessories are sold at every Tourcontchi chain shop and at the Tama Depa Store.
Toy Meals:
PUZZLE SUB - 280 GP
RICE BLOCK - 150 GP
BENTO WOW - 170 GP
Toy Snacks:
POPSICLE - 120 GP
DIY PANCAKE - 150 GP
CAR COOKIE - 110 GP
Toy Items:
MAGIC SET - 800 GP
TRAIN SET - 800 GP
Toy Accessories:
BEAR EARS - 1100 GP
FUN GLASSES - 650 GP
Gym (Game)
The tamagotchi is bouncing on a trampoline and once they touch the trampoline a thought bubble will appear with left or right arrows. The user must press left (A button) or right (B button) in time to match the thought bubble's direction. As the game advances, two arrows will appear meaning the user must press a button twice. The game ends if a button isn't pressed in time or a wrong button is pressed. 10 correct selections are a perfect game.
Propose
The tamagotchi can propose to the exclusive residents if they have a ring.
Residents
Name
Artwork
Sprite
Gender
Marry
Favorite Items
Nejirobotchi

Male
Yes

VR Set
Treadmill
Train Set (Toy Park)

Bonnetchi

Female
Yes

Suitcase
Soba Set (Food Town)
Train Set (Toy Park)
Magic Hat (Wonder Garden)
Chick Nesting Doll
Flower Swing

Magictchi

Male
No
Community content is available under
CC-BY-SA
unless otherwise noted.