Usatchi (うさっち Usatchi) is a Tamagotchi from Patchi Forest. It appears as a non-raisable character on the Tamagotchi iD L.
Appearance
Usatchi's appearance is based on a rabbit's. It has a small white body with four tiny feet and a little round tail. It has pointy rabbit-like ears, and the insides of his ears are light orange. It has beady eyes, light orange cheekspots, and a protruding mouth.
On Virtual Pets
Tamagotchi iD L
Usatchi appears in the background when the player visits Patchi Forest. It appears to be taking a bath in the Fruit Juice Hot Spring.
In the Anime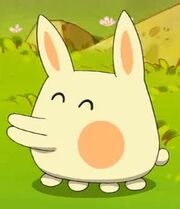 Tamagotchi: The Movie
Usatchi appears as a minor character in a few scenes of Patchi Forest.
Let's Go! Tamagotchi
Usatchi appeared in episode 4. It merely scurries past Kuchipatchi and giggles and snorts. Its Japanese voice actor is Masako Jō.
GO-GO Tamagotchi!
Usatchi appears as a background character in episode 50.
Name Origin
Usatchi's name comes from usa (うさ), which is short for usagi (うさぎ), the Japanese word for rabbit.
Gallery
Community content is available under
CC-BY-SA
unless otherwise noted.