Hello! I'm AkariAngel (as you probably already know). I love art, anime, and basically anything cute! Please feel free to make a comment, I want to be everybody's friend! I like chocolate and sour candy, collie dogs, rabbits, Melodytchi, Yumemitchi, Mametchi, Pianitchi, the Mori-Paku-Coffret team, reading, and drawing, drawing, drawing! I also like Tamagotchi!, Aikatsu!, Jewelpet, and Rilu Rilu Fairilu.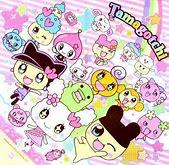 IMPORTANT NOTICE: I may be starting my own (unofficial) wiki that includes Tamagotchi! inspired things in it.
Random Stuff
My Favorite Tamagotchi Songs Tamagotchi has to have some of the greatest songs of all time (at least in my opinion)!! I really like Dream5 songs a lot. Here are my favorites (basically all the Tamagotchi! songs):
All About Me
Favorite Animal: Not sure yet. Probably a Rabbit, or a Dog.
Favorite Food: Soup. Definitely. (With the exception of Pot Roast.)
Favorite Song(s): Itsuka Itsuka.
My Favorite Tamagotchis
Mametchi I love because he is so kind and friendly, he always thinks about his friends first. The sight of him instantly makes me very happy, and his eyes are always so cheerful that I can't help but feel like smiling.
Melodytchi, even though she doesn't understand love, has a lovely charm of her own. She plays the violin (I've always wanted to) so well, and is friends with everyone. I love her design with the earrings and overalls and cute black hat with the hearts.
Yumemitchi is always polite and nice to everyone she meets. I misjudged her when I was younger and thought she only cared about herself and Kiraritchi. Now I know that she is just about the opposite of every bad thing I ever thought about her. Her bow and dress are really pretty and her outfit perfectly completed with the Yume Kira Bag.
Kiraritchi I used to dislike for the same reason as Yumemitchi, but then I realized that she has a whole different personality. She cares for all her friends and tried to make everyone happy with Yumemitchi by using the Yume Kira Bags. Her hat looks so soft and warm, and her dress is such a pretty purple, and everything is complimented by her Yume Kira Bag.
Coffretchi was my favorite character when I first saw Tamagotchi! Yume Kira Dream. Her love of making things beautiful is so appealing to me. Her sparkling eyes and long hair and eyelashes captivated me at first sight. I actually think she was a very fair replacement for Himespetchi.
My Personality
When I'm not reading, drawing, or outside, I like to watch the Aikatsu! and Tamagotchi! Animes.
My main catch-phrase is, "Lovu You!", but other times I'll say, "You're so kyuto!"
Whenever I find something very funny, I refer to it as 'laughing my head off.' Like Melodytchi, I find things extremely funny which other people don't get at all.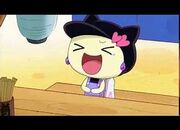 I found it hilarious when I saw that my constellation is Cancer.
I like goofing off. A lot. When I'm really tired late at night, I like writing random things that don't make any sense at all. In the morning, I'll look over these things and wonder, "Why on earth did I write that?!?" In short, I like having a lot of fun.
Community content is available under
CC-BY-SA
unless otherwise noted.