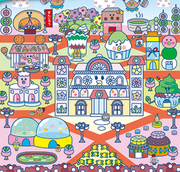 Wagashi Village is a location at Tama Resort Island on Tamagotchi Planet.
Appearance
The village is themed after traditional Japanese sweets with buildings and decorations shaped like dango, namagashi, and dorayaki. In the center of the village there is a building that is possibly a town hall.
On Virtual Pets
Wagashi Village is a location exclusive to the Pastel version of the tamagotchi meets. To unlock it, the tamagotchi must go to the Cafe au Lait Pool in Dolce Town after they have already gotten colored brown from visiting it before. A Coffee Dorayaki will pop out of the pool and it must be eaten. When the tamagotchi eats it the dorayaki will turn into a Dorayaki UFO which multiplies and abducts them. The UFOs will then ascend into the night sky and disappear, reappearing in Wagashi Village and dropping the tamagotchi off there.
Activities
Wagashi Alley
Exclusive residents can be talked to and played with here. If any of the residents are the mother or father of the user's tamagotchi they will not appear.
Souvenir Shop
White Tourcontchi runs the nameless shop here. It sells meals, snacks, items and accessory wearables as part of the Tourcontchi Chain. All standard items and accessories are sold at every Tourcontchi chain shop and at the Tama Depa Store.
Meals:
TAMA OYAKI - 90G
BIG OSHIRUKO - 160G
SAKURA SENBEI - 140G
Snacks:
OHANA NEKIRI - 350G
HISHIMOCHI JELLY - 260G
KONPEITO BOTTLE - 110G
Items:
NERIKIRI ODETAMA (BEAN BAGS) - 200G
OMUCHI FUTON - 1210G
Accessories:
DAIFUKU HOOD - 600G
NERIKIRI KAMIKAZARI (HAIR CLIPS) - 900G
Tea House
Osensutchi will invite the tamagotchi to enjoy some matcha tea with them and she will talk with them for a bit after they drink the tea.
Propose
The tamagotchi can propose to a resident if they have a ring.
Residents
Gallery
Community content is available under
CC-BY-SA
unless otherwise noted.