Yasaguretchi
(やさぐれっち)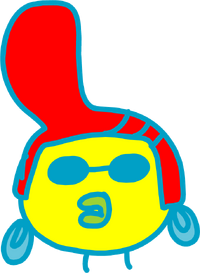 Genders and Releases:
Hometown:
Uratama Town
Sprites:

Yasaguretchi (やさぐれっち) is an adult male character on the Ura Jinsei Enjoy Tamagotchi Plus and Tamagotchi Connection Version 4.5.
Appearance
He is round and yellow, with dramatically slicked red hair. He has sunglasses and a green mouth. His arms are round and blue.
Personality
He tends to be a loner, loves to listen to rock 'n roll music and he collects sunglasses. It takes an hour for him to style his big Elvis-like hair style.
On Virtual Pets
UraTama / Version 4.5
Yasaguretchi is a male UraMeme Family adult, and evolves from Daiyatchi or Kujakutchi with Gorgeous skill points.
Name Origin
Yasagure is a Japanese word to describe a runaway (e.g. someone who has run away from home).
Trivia
He resembles Warusotchi, and may be the Ura version of him.
Gallery
Community content is available under
CC-BY-SA
unless otherwise noted.